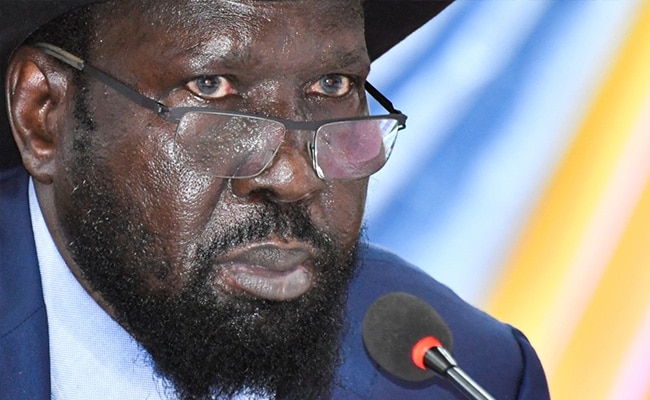 6 South Sudan Journalists Arrested Over Viral Video Of President Wetting Himself
The journalists are under investigation over footage that went viral on social media in December.
Media rights groups have called for South Sudanese authorities to release six journalists detained over a video reportedly showing President Salva Kiir urinating on himself.

The staff at the state-run South Sudan Broadcasting Corporation were arrested on Tuesday by agents from the National Security Service, according to the Committee to Protect Journalists, citing media reports and other sources familiar with the case.

They are under investigation over footage that went viral on social media in December, according to the reports, the New York-based CPJ said in a statement issued late Friday.

A video posted on YouTube shows Kiir, dressed in his trademark black hat and a grey outfit at what is described as a road commissioning ceremony, with a wet substance staining his left trouser leg.

An official from SSBC quoted by independent station Radio Tamazuj said the outlet did not broadcast the footage.

The arrests match "a pattern of security personnel resorting to arbitrary detention whenever officials deem coverage unfavourable", said CPJ's sub-Saharan Africa representative Muthoki Mumo.

"Authorities should unconditionally release these six SSBC employees and ensure that they can work without further intimidation or threat of arrest."

The Union of Journalists of South Sudan also called for a "speedy conclusion" of the investigation into the six, who it said were suspected of "having knowledge of the release of 'a certain footage' to the public".

"If there is a prima facie case of professional misconduct or offence then let authorities expedite an administrative or legal process to address the issue in a fair, transparent (manner) and in accordance with the law," it said in a statement on Friday.

Kiir, 71, oversaw the birth of South Sudan as an independent nation after it broke free from Sudan in July 2011.

But the world's youngest country has lurched from crisis to crisis since then, enduring brutal conflict, political turmoil, natural disasters and hunger.