Americans are roughly divided on whether private individuals should be permitted to fund local election agencies, according to a new Just the News Daily Poll with Scott Rasmussen, with that division coming after billionaire Facebook founder Mark Zuckerberg pumped over a third of a billion dollars into election efforts during the 2020 race.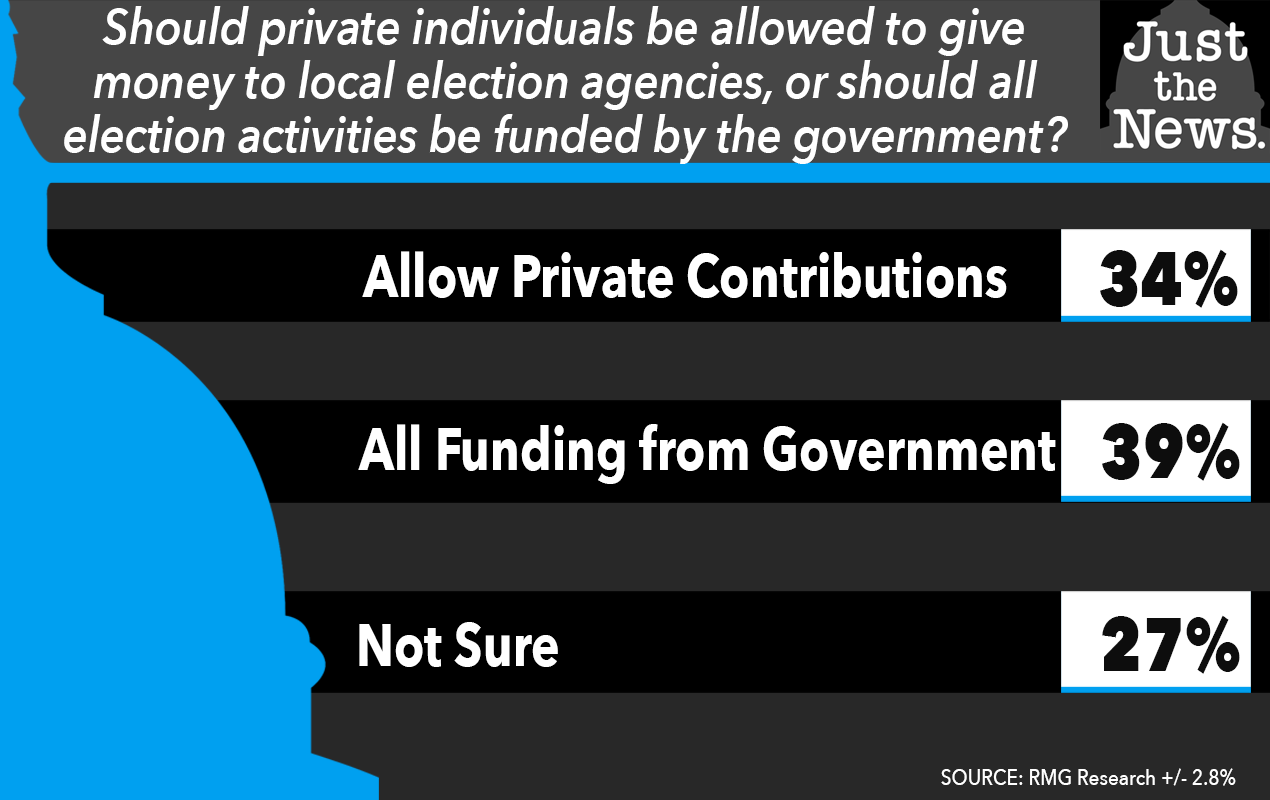 How should elections be funded?

Just the News Staff

Among voters, 39% believe that local election administration should be funded solely by the government, while 34% believe private citizens should be permitted to contribute funds to those efforts. Roughly a quarter — 27% — were unsure.

Rasmussen noted that the divisions on the question arises "probably because it's something few have heard about or thought about."

"Democrats are a bit more supportive [of private funding] than others," he pointed out. "It's impossible to know if that's simply because they believe the government is underfunding [elections] and more resources are needed or if it's because Zuckerberg is identified with the political left."

Whatever the explanation, Zuckerberg's infusion of several hundred million dollars into shaping the 2020 election process has generated lasting controversy that has contributed to doubts about the legitimacy of the 2020 results.

The billionaire and his wife Priscilla Chan initially poured $250 million into the liberal-leaning group the Center for Tech and Civic Life, an election advocacy organization that seeks to "modernize the American voting experience" with the use of voting technology.

Zuckerberg and Chan eventually sent another $100 million into CTCL's coffers, giving the company over a third of a billion dollars with which to assist and influence election policy nationwide.

Those donations raised eyebrows in part because CTCL had prior to the infusion been routing major cash donations into Democratic stronghold cities in the critical swing state of Wisconsin. Cities such as Green Bay, Racine and Kenosha all received significant funds with which to improve and administer their election machines.

Records requests in November revealed that municipal officials in those localities sought funding from CTCL in part to conduct voter registration activities, undertakings that are usually the province of political campaigns and nonprofit groups.

Officials in at least Green Bay also sought to use CTCL's funds in part to drive up voter participation from nonwhite demographics using "targeted mail, geo-fencing, posters (billboards), radio, television and streaming service PSAs, digital advertising, robo calls and robo texts."

Joe Biden was declared the winner in Wisconsin by a razor-thin margin of about 0.7%, a difference of around 20,000 votes, slightly smaller than President Trump's margin of victory there in 2016.