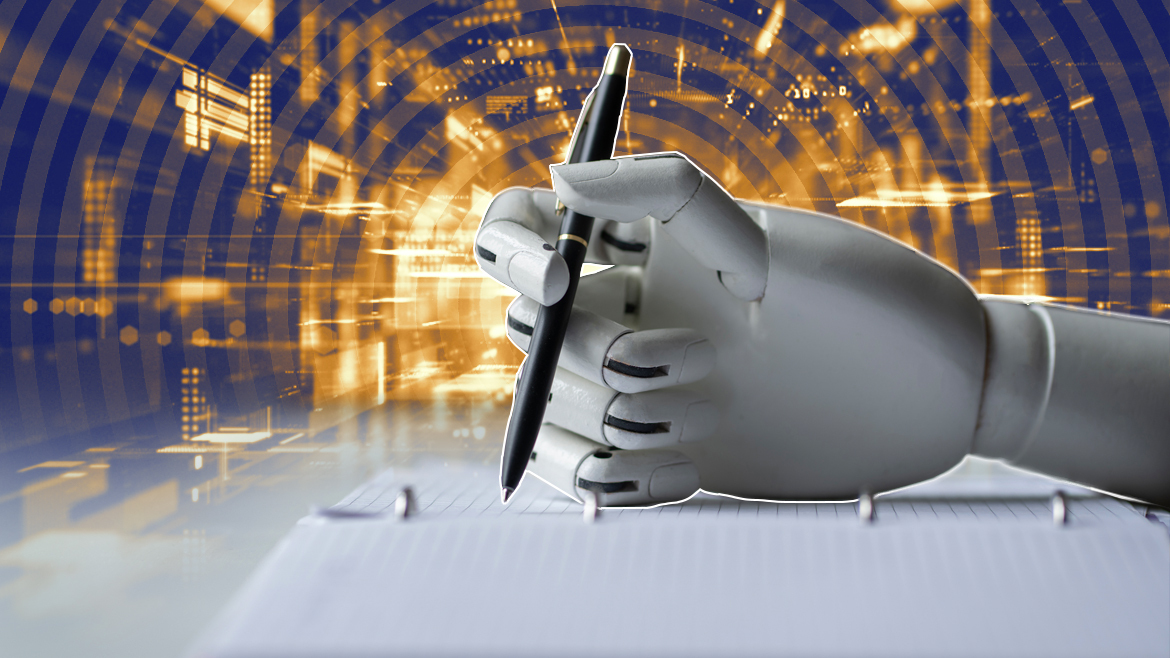 AI can now write like a human. Some teachers are worried.
Is artificial intelligence a threat to education or a tool that can help students discover new abilities?
Artificial intelligence has advanced at an extraordinary pace over the past few years. Today, these incredibly complex algorithms are capable of creating award-winning art, penning scripts that can be turned into real films and — in the latest step that has dazzled people in the tech and media industries — mimic writing at a level so convincing that it's impossible to tell whether the words were put together by a human or a machine.

A few weeks ago, the research company OpenAI released ChatGPT, a language model that can construct remarkably well-structured arguments based on simple prompts provided by a user. The system — which uses a massive repository of online text to predict what words should come next — is able to create new stories in the style of famous writers, write news articles about itself and produce essays that could easily receive a passing grade in most English classes.

That last use has raised concern among academics, who worry about the implications of an easily accessible platform that, in a matter of seconds, can put together prose on par with — if not better than — the writing of a typical student.

Cheating in school is not new, but ChatGPT and other language models are categorically different from the hacks students have used to cut corners in the past. The writing these language models produce is completely original, meaning that it can't be detected by even the most sophisticated plagiarism software. The AI also goes beyond just providing students with information they should be finding themselves. It organizes that information into a complete narrative.


Why there's debate
Some educators see ChatGPT as a sign that AI will soon lead to the demise of the academic essay, a crucial tool used in schools at every level. They argue that it will simply be impossible to root out cheating, since there will be no tools to determine whether writing is authentic or machine-made. But beyond potential academic integrity issues, some teachers worry that the true value of learning to write — like analysis, critical thinking, creativity and the ability to structure an argument — will be lost when AI can do all those complex things in a matter of seconds.

Others say these concerns are overblown. They make the case that, as impressive as AI writing is, its prose is too rigid and formulaic to pass as original work from most students — especially those in lower grades. ChatGPT also has no ability to tell truth from fiction and often fabricates information to fill in blanks in its writing, which could make it easy to spot during grading.

Some even celebrate advances in AI, viewing them as an opportunity to improve the way we teach children to write and make language more accessible. They believe AI text generators could be a major tool to help students who struggle with writing, either due to disabilities or because English isn't their first language, to be judged on the same terms as their peers. Others say AI will force schools to think more creatively about how they teach writing and may inspire them to abandon a curriculum that emphasizes structure over process and creativity.


What's next
When asked whether AI will kill the academic essay, ChatGPT expressed no concern. It wrote: "While AI technology has made great strides in natural language processing and can assist with tasks such as proofreading and grammar checking, it is not currently capable of fully replicating the critical thinking and analysis that is a key part of academic writing."

With the technology just emerging, it may be several years before it becomes clear whether that contention will prove correct.


Perspectives
AI could kill the academic essay for good

"The majority of students do not see writing as a worthwhile skill to cultivate. … They have no interest in exploring nuance in tone and rhythm. … Which is why I wonder if this may be the end of using writing as a benchmark for aptitude and intelligence." — Daniel Herman, Atlantic

AI can't replace the most important parts of writing education

"Contrary to popular belief, we writing teachers believe more in the process of writing than the product. If we have done our jobs well and students have learned, reading that final draft during this time of year is often a formality. The process tells us the product will be amazing." — Matthew Boedy, Atlanta Journal-Constitution

AI will create a cheating crisis

"An unexpected insidious academic threat is on the scene: a revolution in artificial intelligence has created powerful new automatic writing tools. These are machines optimised for cheating on school and university papers, a potential siren song for students that is difficult, if not outright impossible, to catch." — Rob Reich, Guardian

Any competent teacher can easily spot AI-generated writing

"Many students would be hard-pressed to read with comprehension AI-generated essays, let alone pass them off as their own work." — Robert Pondiscio, American Enterprise Institute

AI can make writing more accessible to everyone

"I think there's a lot of potential for helping people express themselves in ways that they hadn't necessarily thought about. This could be particularly useful for students who speak English as a second language, or for students who aren't used to the academic writing style." — Leah Henrickson, digital media researcher, to Business Insider

Something incredibly important is lost when people don't learn to write the hard way

"We lose the journey of learning. We might know more things but we never learned how we got there. We've said forever that the process is the best part and we know that. The satisfaction is the best part. That might be the thing that's nixed from all of this. … I don't know what a person is like if they've never had to struggle through learning. I don't know the behavioral implications of that." — Peter Laffin, writing instructor, to Vice

AI can enhance creativity by helping students sort through the routine parts of writing

"Keep in mind, language models are just math and massive processing power, without any real cognition or meaning behind their text generation. Human creativity is far more powerful, and who knows what can be unlocked if such creativity is augmented with AI?" — Marc Watkins, Inside Higher Ed

Educators may not be able to rely on essays to evaluate students much longer

"AI is here to stay whether we like it or not. Provide unscrupulous students the ability to use these shortcuts without much capacity for the educator to detect them, combined with other crutches like outright plagiarism, and companies that sell papers, homework, and test answers, and it's a recipe for—well, not disaster, but the further degradation of a type of assignment that has been around for centuries." — Aki Peritz, Slate

AI won't kill anything we'll miss

"By privileging surface-level correctness and allowing that to stand in for writing proficiency, we've denied a generation (or two) of students the chance to develop their writing and critical thinking skills. … Now we have GPT3, which, in seconds, can generate surface-level correct prose on just about any prompt. That this seems like it could substitute for what students produce in school is mainly a comment on what we value when we assign and assess writing in school contexts." — John Warner, author of Why They Can't Write

Educators shouldn't overreact, but they need to have a plan

"Whenever there's a new technology, there's a panic around it. It's the responsibility of academics to have a healthy amount of distrust — but I don't feel like this is an insurmountable challenge." — Sandra Wachter, technology researcher, to Nature