"The software that's in it applies to older iPhones, I presume. And that's the good part."
Hey Siri, are you ready for a little bit of shade?

Apple co-founder Steve Wozniak is not exactly impressed with the latest iPhone and Apple Watch models.

"I got the new iPhone. I can't tell the difference, really," Wozniak said Friday, in an interview streamed on Yahoo Finance Live.

"The software that's in it applies to older iPhones, I presume, and that's the good part," he continued, adding that he felt exactly the same about the latest Apple Watch.

The 71-year-old electronics engineer and philanthropist was part of a tech talk, in which he was asked about the latest Apple earnings, the state of big tech, and about his Amazon Prime show "Unicorn Hunters."

On Thursday, Apple announced that it'd had fallen short of Wall Street expectations in its fiscal fourth quarter, marking the first time since April 2016 that the tech giant failed to beat earnings estimates, according to CNBC.

Yahoo Finance host Julie Hyman said that from a product design perspective, "there were a few complaints with this latest product cycle," referring to recent Apple products, which some people felt didn't offer "enough new bells and whistles."

She asked Wozniak about his feelings about the complaints while noting that "it's hard to reinvent the wheel every single time."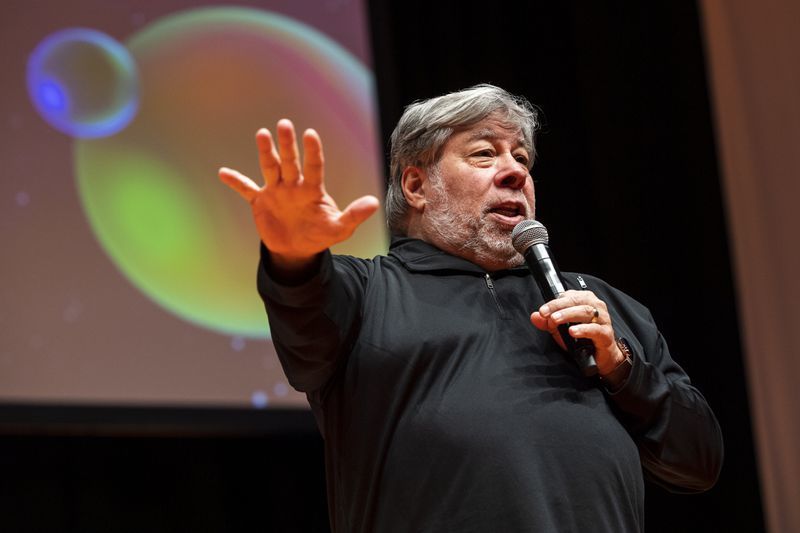 In this file photo, Steve Wozniak speaks at the Novathon Conference in Budapest Congress Centre on Oct. 30, 2019.

Wozniak, who co-founded Apple Computer in 1976 with Steve Jobs, seemed to agree with her, but added that "in technology, you always want to kind of keep up with the newest, and sometimes you're five years behind, seven years behind … and that's where the sales come from."

But even with the latest generation of iPhones, which includes the iPhone 13, failing to impress Wozniak, he didn't' seem too concerned about Apple's disappointing earnings.

"'I'm glad that Apple is such a healthy company," he said.

"We're a company that actually managed to keep our name," he added in a not-so-subtle reference to Facebook's recently announced rebranding.