The EU has released its plan for a reduction of post-Brexit checks on goods and medicines arriving into Northern Ireland from the rest of the UK.
Northern Ireland has a special Brexit deal which keeps it in the EU's single market for goods and allows free-flowing trade with the EU.

But it means goods arriving from Britain face checks and controls.

The UK government said it is studying the detail of the EU's proposals.

The new plan, which seeks to calm a long-running dispute over a key part of the Brexit agreement, would remove about 80% of spot checks, the EU said.

The EU said customs paperwork would also be cut by 50%.

What is the EU proposing?

*  Most food products will not need to be physically checked when arriving into Northern Ireland from Great Britain.
*  A cut to the required administration for Northern Ireland importers.
*  Expanded trusted trader arrangements meaning more products and companies are exempt from customs tariffs.
*  Change to current laws to ensure no disruption to moving medicines across the Irish Sea.
*  Improved engagement with stakeholders in Northern Ireland including politicians and business groups.

The UK says the current arrangement imposes too many barriers.

At the start of the year, the new post-Brexit arrangement - known as the Northern Ireland Protocol - was introduced to help prevent checks along the border between Northern Ireland and the Republic of Ireland.

It involves keeping Northern Ireland in the EU's single market for goods - but this, in turn, creates a new trade border with Great Britain. Unionists say this undermines their place in the UK.

Brexit Minister Lord Frost said the protocol - which the UK originally agreed to - was harming the peace process in Northern Ireland and that it undermined the Good Friday Agreement.

The EU acknowledges that it has caused difficulties for Northern Ireland businesses and is now attempting to ease that burden with what it calls "a different model".

It has produced "bespoke arrangements" covering food, customs and medicines.

European Commission Vice-President Maros Šefčovič said he had listened to, and engaged with, those in Northern Ireland.

"Today's proposals are a direct, genuine response to their concerns," he said.

"We have put a lot of hard work into them to make a tangible change on the ground."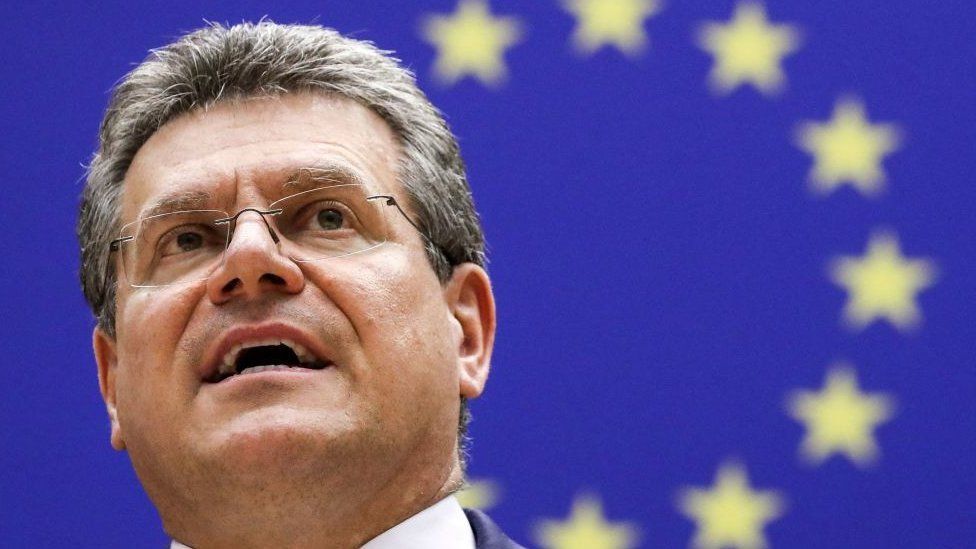 He said he looked forward to "engaging earnestly and intensively" with the UK government.

Some firms in Northern Ireland affected by the protocol say supply chains are being disrupted, and while there may be opportunities, there are also some problems.

'Intensive talks'

On Wednesday, a UK government spokesman said the next step should be a "rapidly conducted" round of intensive talks on both the UK and EU proposals.

"Significant changes which tackle the fundamental issues at the heart of the protocol, including governance, must be made if we are to agree a durable settlement which commands support in Northern Ireland," he said.

A solution is needed that both safeguards the Good Friday Agreement and "puts the UK-EU relationship on a stronger footing", he added.

Democratic Unionist Party (DUP) MP Ian Paisley told the BBC's Newsnight programme that Prime Minister Boris Johnson told him "personally that after agreeing to the protocol he would sign up to changing that protocol and indeed tearing it up, that this was just for the semantics".

"I do believe that the government didn't really want this to happen to Northern Ireland and they took a short term bet.

"The trouble is this has cost the business people of Northern Ireland £850m which we can't afford, so it's got to be fixed and it's got to be fixed fast."

Talks between the EU and UK on the new proposals are now likely to go on for several weeks.

Irish Foreign Minister Simon Coveney said the proposals were a "major effort" to address the post-Brexit trade rules between Great Britain and Northern Ireland.

"Meats, whether they're chilled meats or other food stuffs, can come into Northern Ireland and if they're staying in Northern Ireland then the checks that are currently required will not be required," he said.

This would be dependent on proper sharing of data and proper labelling, he added.

There are also plans to give Northern Ireland politicians and other interested parties greater influence over the implementation of the protocol.

However, the measures will fall short of UK demands to fundamentally change the protocol by removing the European Court of Justice (ECJ) from an oversight role.

On Tuesday, the UK's Brexit minister Lord Frost proposed plans for an entirely new protocol to replace the existing one.

As part of these plans, the UK government wants to reverse its previous agreement on the oversight role of the ECJ, which is the EU's highest court.

The agreement states that the ECJ has jurisdiction to rule on matters of EU law in Northern Ireland - so for example, if there was a dispute around complying with applicable EU law, the EU could take the UK to the ECJ.

The movement of food products from Great Britain to Northern Ireland have faced the biggest difficulties due to the EU's strict rules.

NI Protocol: The basics

The Northern Ireland Protocol is part of the Brexit deal: It is an agreement that means goods can pass freely across the Irish border. Basically, lorries don't have to stop and prove their goods follow EU rules when they go between Northern Ireland (in the UK) and the Republic of Ireland (in the EU).

It means Northern Ireland still follows some EU rules: As the rest of the UK (England, Scotland, Wales) no longer follow EU trade rules, some goods from there have to be checked when they arrive in Northern Ireland.

But some goods from Britain can't enter Northern Ireland at all: EU rules don't allow certain products, like chilled sausages, to enter its market. A grace period, where the rules don't apply, has been in place since January but no long-term solution has been found.

The EU says its new plan for food means that most products destined for consumers will not need to be physically checked when arriving into Northern Ireland from Great Britain.

A grace period, which means the protocol is not being fully implemented, currently means that supermarkets do not face a full range of controls.

The EU says its new proposals will go beyond this and cover more businesses.

It says the level of identity and physical checks will be up to 80% lower compared to other single market borders.

However, it says for this to work it will need the UK to build properly equipped border posts at Northern Ireland's ports, allow access to real time trade data and implement "only for sale in UK" labelling.

The possibility also remains that some GB food products could be banned in Northern Ireland.

'Express lane'

The EU maintains a "prohibited and restricted" list of food imports, which includes chilled meat products like fresh sausages.

The EU is proposing that "national identity goods", or those which do not have a non-GB supply chain, would be exempt, but that leaves open the possibility that some goods could be banned.

On customs, the EU is proposing what it calls a "unique facilitation" for paperwork, which it says will mean Northern Ireland importers can submit a greatly reduced amount of information.

It estimates this will halve the administrative burden.

It will also expand the concept of "goods not at risk" - this is an existing arrangement which Northern Ireland traders use so they do not have to pay EU tariffs on GB goods.

The EU says the combination of the agri-food and customs proposals will effectively create an "express lane" to help facilitate the movements of GB goods whose end destination is Northern Ireland.

The supply of medicines from Great Britain to Northern Ireland has emerged as one of the most difficult issues.

Pharmaceutical distributors have warned that if the current protocol was fully implemented they would have to withdraw hundreds of products from sale in Northern Ireland.

The EU is now proposing to change its laws around the regulation of medicines to keep products flowing.

Mr Šefčovič has previously said he will do "whatever it takes" to guarantee the supply of medicines.

This is a complicated area and the pharmaceutical industry will need time to assess if the plan will work.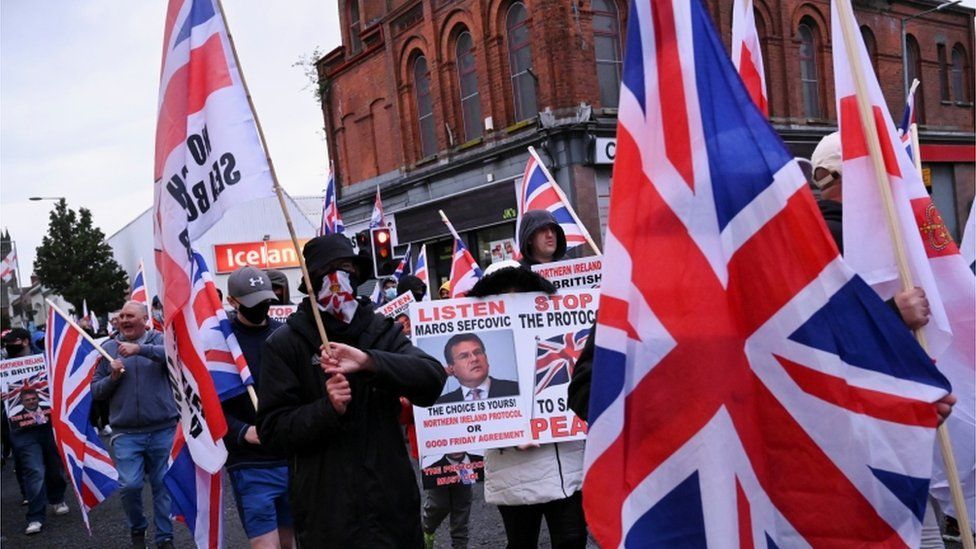 The EU originally floated a version of this idea in July but the industry was unconvinced at that time.

The proposals for giving Northern Ireland politicians and other stakeholders a greater voice include the establishment of structured groups to provide a forum for discussion on key issues.

It would also see interested parties invited to some meetings of the Specialised Committee, one of the joint UK/EU bodies that oversee the protocol.

The EU says it also wants to create a stronger link between the Northern Ireland Assembly and the EU/UK Parliamentary Partnership Assembly.

It also intends to create a website to track which EU legislation is applicable in Northern Ireland.