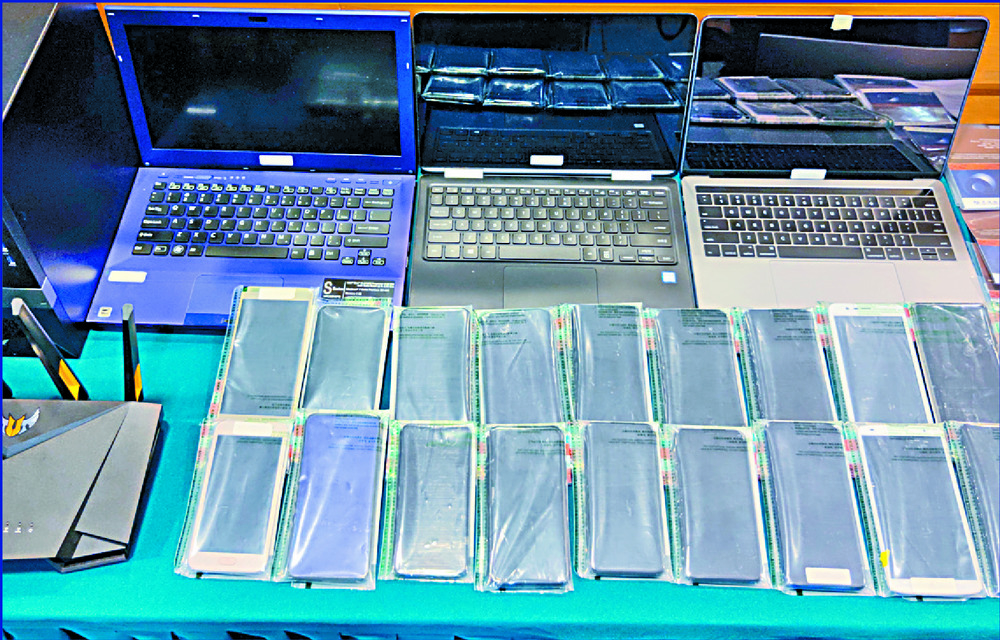 Cryptocurrency ring smashed
A money-laundering syndicate involving cryptocurrency has been busted for the first time, says Customs.
Four men were arrested in the cryptocurrency ring involving HK$1.2 million worth of Tether.

Known as a "stablecoin," Tether is pegged at US$1 (HK$7.80) a token.

The four suspects, aged 24 to 33, were arrested for money laundering in a Customs and Excise Department operation codenamed "Coin Breaker" in Wong Chuk Hang, Mong Kok, Tuen Mun and Tin Shui Wai last week.

They have been released on bail pending investigation.

A 33-year-old suspected syndicate member allegedly recruited an insurance practitioner, a construction worker and a fitness coach to register as the directors of three shell companies controlled by the syndicate.

The head of the Customs financial investigation group, Grace Tang Wai-ngan, said the core member later instructed the three to set up cryptocurrency and bank accounts to launder the proceeds.

"The three suspects' monthly income was less than HK$10,000," she said.

"But the core member baited the three with HK$10,000 to HK$20,000 as rewards, luring them into committing the involved procedures."

From February last year to May this year, the three shell companies handled 1,800 suspicious transactions, Tang said.

Among them, HK$880 million worth of Tether coins and another HK$350 million hard cash from bank accounts.

The Customs group first received tip-offs early this year on the three companies handling a large number of big transactions, Tang said.

"Customs then focused on the three companies claiming to be transportation, red wine and health food companies," she said.

"Two of the companies registered with the Companies Registry with fake addresses, and also lacked clearance documents and business records."

She said the three companies set up 40 e-wallets online, which pocketed Tether coins worth HK$880 million from May to November 2020.

"Twenty percent of the coins, which were worth HK$150 million, were then transferred to another 20 e-wallets," she said.

"The remaining coins, which were worth HK$730 million, were cashed out, with the money transferred to the three companies' eight bank accounts."

About HK$730 million, along with the HK$350 million from separate bank accounts of more than 100 companies, was then transferred to 200 bank accounts, Tang said.

"The money ended up in the bank accounts of remittance, real estate and investment companies in Hong Kong and other countries, such as Singapore," she said.

The 40 e-wallets handled more than 500 cryptocurrency transactions in six months.

"The largest amount in a single transaction involved HK$20 million," Tang said.

The head of the department's syndicate crimes investigation bureau, Mark Woo Wai-kwan, said the anonymity with using Tether coins made customs' investigation challenging.

The origin and whereabouts of the syndicate's proceeds are being investigated and further arrests are possible.