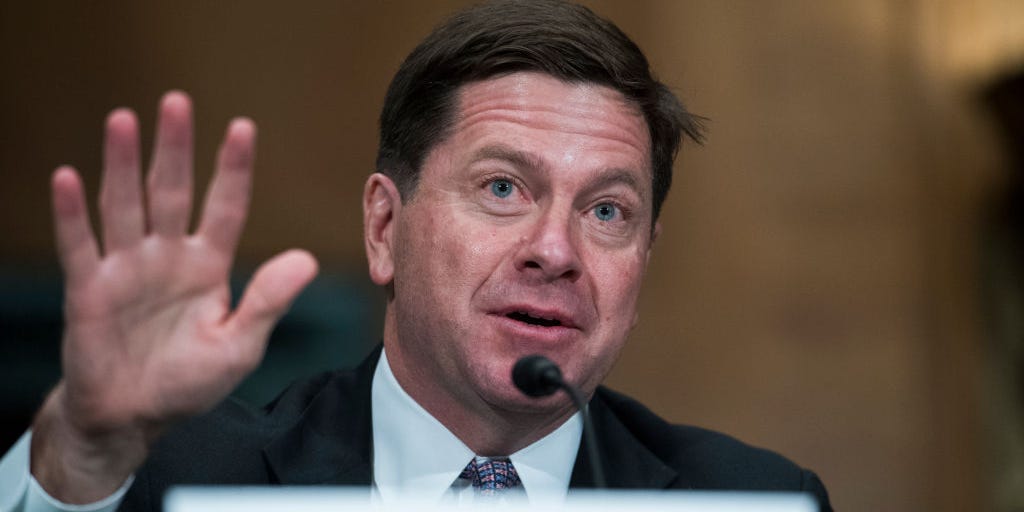 Former SEC chair Jay Clayton says he's optimistic about crypto in the wake of FTX's collapse — and breaks down 3 ways regulation can deter bad behavior
Former US Securities and Exchange Commission chairman Jay Clayton is optimistic about blockchain technology's potential to improve traditional financial systems, even as turmoil continues to weigh on cryptocurrency markets.
Despite FTX's sudden downfall last month, Clayton says "the promise of distributed ledger technology is remarkable given how many transactions are already taking place around the globe 24/7 with very few frictions." (Clayton is referring to the blockchain's ability to conduct borderless transactions, along with faster trading settlements than traditional equities.)

"That undeniably demonstrates that the opportunity to improve the efficiency of traditional financial markets is vast," Clayton said in an interview with Goldman Sachs.

Clayton added: "But, again, we cannot and will not give up a proven and widely accepted regulatory framework in order to achieve those efficiencies more quickly."

FTX, the once $32 billion crypto empire started by Sam Bankman-Fried, filed for bankruptcy protection last month. Around $8 billion of customer funds went missing and FTX backers, including some of the largest venture capital firms, wrote their investments down to zero.

Bankman-Fried was arrested this week in the Bahamas on charges including conspiracy to commit money laundering, violating campaign finance laws, and wire fraud. US prosecutors are accusing the disgraced founder of orchestrating a years-long scheme to defraud investors.

"We allege that Sam Bankman-Fried built a house of cards on a foundation of deception while telling investors that it was one of the safest buildings in crypto," SEC Chair Gary Gensler said in a statement on Tuesday.

Regulatory oversight of digital assets are at the top of mind in the wake of FTX's fallout.

In the report from Goldman Sachs, former Commodity Futures Trading Commission (CFTC) chairman Timothy Massad argues that a lack of regulatory clarity has been detrimental to the industry while Clayton calls this viewpoint "garbage."

There are three things regulators can do to crack down on bad behavior in the space, according to Clayton:


1. The SEC and CFTC should require all crypto intermediaries to adhere to basic set of customer protections, while the "classification issues that many entities have been exploiting are resolved," Clayton says.

"[This] could easily be drawn from existing requirements for US securities and derivatives exchanges, and mandate that all crypto trading venues abide by them if they're not already registered entities with the SEC or CFTC," he added.


2. Regulators need to "vigorously" crack down on existing digital asset regulations such as enforcing platforms that are trading securities to comply with SEC rules.

"The SEC's crackdown on unregistered initial coin offerings (ICOs) that I oversaw was necessary because these offerings flouted the rules for public offerings, often failing to provide even basic financial information or risk disclosures," Clayton said.

He added: "Both the SEC and the CFTC have also brought a variety of actions against unregistered or illegal products, Ponzi schemes, and other scams, and they should continue doing so."


3. Stablecoins need to be brought into compliance.

Algorithmic stablecoin TerraUSD, which was billed as a safe way to park assets while earning yields, collapsed earlier this year as well. This caused many retail investors, those who used the crypto as a high yield-bearing savings accounts, to lose a lot of their money.

"Many stablecoins have unstable features often associated with counterparty and credit risk that should be regulated as cash equivalents would be for traditional financial intermediaries," Clayton said, adding that banking regulators can "take the lead on this."