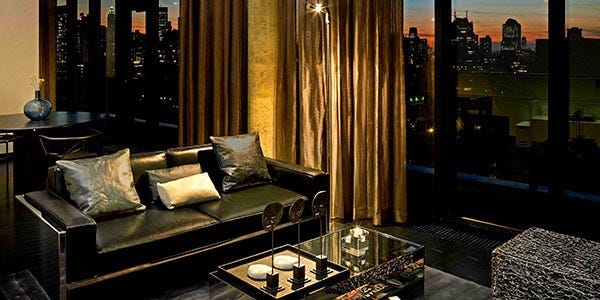 Gen Z is all about 'real moments' when traveling - and that means hotels are pushing to reinvent themselves fast
Young vacationers say they want a full experience when traveling, and that includes having a memorable place to stay.
Gen Z is on the move, and they're pretty particular about where they stay while on vacation.

As the generation born between 1997 and 2012 becomes the future of the travel industry, some hotels are catching on to their spending power and influence — and shifting to create the ideal Gen Z traveler experience.

Post-millennials are looking for more unique and memorable moments from hotel stays, according to a report from Skift. For them, it's about being real and relatable online rather than crafting an image, following a trend of viral content that speaks directly to viewers with fewer frills.

"When it comes to traveling, Gen Z prioritizes authenticity and living in the moment," said Sharon Silverstein, the head of US verticals at Snapchat parent company Snap. "They don't only share the most picture-perfect photos. They appreciate the funny, silly, real moments that make a trip truly memorable."

Hotels that offer more than just a late check-out and a complimentary breakfast are more likely to attract travelers that want to document memories made at the hotel.

Insider spoke to two young travelers who say they're willing to splurge for the right vibes.

Joshua Napier, a 25-year-old luxury retail client advisor, told Insider that his main concern is which amenities he can enjoy during his stay, but he's also interested to learn more about the history of the hotel and how it's changed over the years.

"I like to know the stories of the hotel. I want to know who stayed there, any past remodeling, and why they made certain design choices," Napier told Insider.

This, he told Insider is why he stays at Sixty LES when he's in Manhattan. He praised the establishment for its hands-on care.

"Hospitality is important for me. Sixty LES feels like a neighborhood as soon as you walk out the door, and the inside gives you the urge to leave your room and enjoy amenities like the pool, bar, and lounge area."

He added: "It has unique shared balconies for some rooms that helps me feel like being friendlier. Not to mention, a terrace in Manhattan is a luxury."

One Florida-based hospitality expert said hotels should consider Gen Z's connection to the digital world — for both work and pleasure — to better target young travelers.

"Hoteliers must learn to create an atmosphere that combines work and fun to appeal to this new mindset of travelers, with an emphasis on technology and social media moments," Daniel Berman, president and CEO of hospitality company AD1 Global wrote for Forbes.

Berman added: "Having a restaurant with a bar equipped with interactive TVs and phone chargers makes a very convenient stay for Gen-Zs. They can relax after their flight and invite their friends to spend virtual time together, having fun without needing to leave the hotel premises."

Publisher Morgan Lindsay, 23, echoed Napier's desire for amenities, but added that she doesn't want a hotel that feels like home. For her, vacation should feel more like a good dream than real life.

"I'm trying to vacation from my real life and my reality. I don't want to feel like I'm at home," Lindsay told Insider.

Seattle-based designer Andrea Dawson Sheehan told Skift that she takes design inspiration from her child, who is Gen Z; that generation wants "to personally be part of hotels' stories" when they stay.

"(Gen Z wants) to feel like they're doing something – that they're relevant — because they're living at home and can't afford to live otherwise. So Gen Z spends its money on experiences, but they want those experiences to be educational and have values that support their beliefs," Dawson Sheehan said.