Higher prices are live for new users; existing user prices increase next month.
Don't get too distracted by today's big "AI for Google Workspace" announcement, because this is also the day for a Google Workspace price increase. Last month, Google announced that prices for the most common "business" editions of Google Workspace would increase by 20 percent and that the company would launch an "annual" billing option on March 14. Today's the big day, and with that new billing plan, the higher prices have hit the Google Workspace sign-up page for new users. Existing users will see that 20 percent price increase at some point in the future, too, with the earliest rollout happening in April. If you don't want to pay a bunch more for Workspace, the new Annual plan will let you commit to a year of Workspace at the old rate.

Google's new-ish Workspace branding is kind of confusing. Google used to have a brand name only for the paid, business edition of the Google apps, which come with a custom domain option for your Gmail account. Previously the name was "G Suite," and before that it was "Google Apps for your domain." The new brand, "Workspace," applies to both the paid business accounts and the free consumer accounts, though. So to be clear, the free consumer Google accounts for Gmail and Docs and whatnot are still free, but the three most common business editions—Business "Starter," "Standard," and "Plus"—are all going up in price. Businesses pay for these accounts per user per month, so the pricing can add up quickly.

Annual plans have been available before for businesses via the old-school route of calling a corporate sales rep, but now any business admin will be able to sign up for an annual plan online. Unlike the "Flexible" month-to-month plans, Google's terms for the deal say you'll be locked into the number of users you pick at the beginning of your year, and while you can add new users and pay more, you can't drop them. While you're locked into a year of service, billing is still month to month, and added users will increase your bill going forward, so they're prorated. You're not allowed to cancel the deal early.


New users pay more today, existing users pay more starting next month

Google's price increases.
A lot of these software-as-a-service businesses offer you a deal if you sign up for a whole year. Rather than a discount, Google is actually raising the price of Workspace month to month, so locking yourself into an annual plan can save you money. It's hard to imagine quitting email any time soon, right?
Prices are jumping up 20 percent across the board for the three main "business" editions. The "Business Starter" edition, which offers 30GB of storage per user, is going from $6 per user per month to $7.20. "Business Standard" bumps you to 2TB per user and adds more Google Meet features like noise cancellation and Meeting recordings. This used to cost $12 per user per month, but now it will be $14.40. Business Plus, the 5TB plan, was $18 a month, but now it's $21.60.
Obviously Google would like it if everyone committed to a yearly plan instead of a monthly one. These new prices are already live on the Google Workspace pricing page, although it defaults to showing the one-month cost of the yearly commitment price instead of the flexible plan price you would actually pay if you paid month to month. If you mouse over a tiny "i" icon, you'll see that the flexible month-to-month price is now 20 percent higher.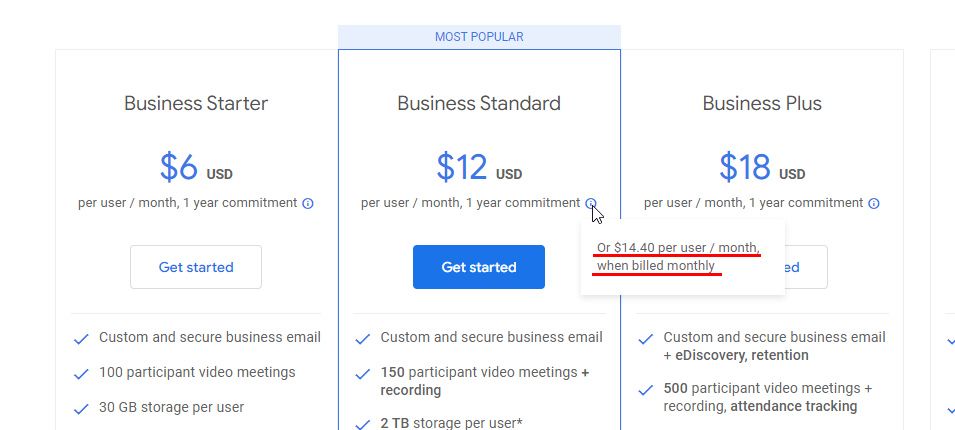 The new Workspace pricing is live.

It's hard to nail down an exact time for when prices go up for existing users. Google says that "the new pricing will roll out starting in April of this year and through 2024, depending on factors that include number of user licenses, current contract terms, and payment plan. For example, pricing for existing Google Workspace subscriptions with 10 or fewer user licenses will not change until January 2024." So... sometime over the next nine months, and maybe longer than that, I guess. Google says, "Customers will be notified via the Google Workspace Admin Console at least 30 days before their price changes take effect and provided with more specific information to help them navigate these changes."

It's not hard to imagine why Google is raising prices. Google Cloud, the division Workspace is a part of, still isn't profitable, and higher prices for its most popular product will help with that. Google Cloud employees—and only Google Cloud employees—were recently asked to share desks to consolidate real estate, so there's some real belt-tightening going on over there. Assuming Google Workspace's newly announced generative AI features ever roll out to the masses, running those features also represents a big server cost increase for Google, and somebody's got to pay for that, too.