Singaporeans value convenience, and there are vending machines all over the place. A couple weeks ago, I decided to put their products to the test.
As a Singaporean, I'm used to seeing vending machines pop up across the island.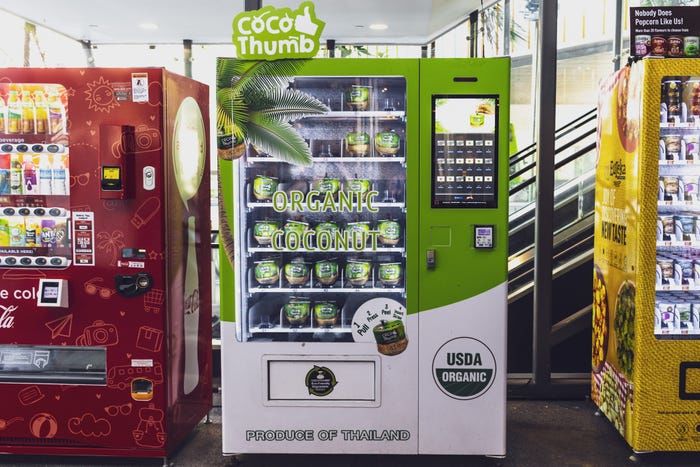 Singaporeans value convenience, and there are vending machines all over the place. That said, I rarely stop to buy anything because I've always had the impression that vending-machine products are either overpriced or stale.

In February, I decided to put that assumption to the test. Accompanied by our visual features fellow Marielle, who photographed our findings along the way, I set out on a walking (and driving) tour of some of Singapore's more unusual vending machines.


The first stop on our grand vending-machine tour took us to a series of bright orange machines that can be found all over Singapore. They dispense freshly squeezed orange juice and cooked meals within minutes.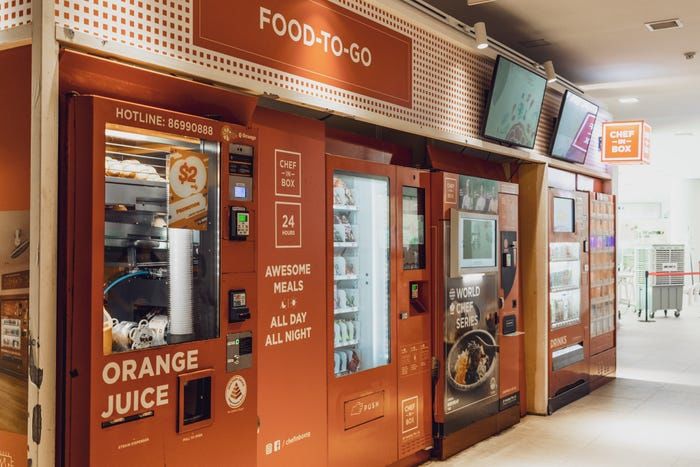 These vending machines, which were set up by local company Chef-in-Box, have been offering dozens of cooked food items including rice and noodle dishes since 2016.

The vending machine we stopped at was located in a quiet corner of a local community center, and it sold everything from macaroni and cheese to clay pot chicken rice. There was a good mix of local and foreign cuisine options, and they were all affordably priced at under 6 Singapore dollars ($4.42).

This machine in particular also dispensed drinks, including orange juice squeezed on the spot from fresh oranges.


I ordered the Japanese chicken curry rice from the machine. It looked like an airplane meal, and the flavors were good — but the rice was cold.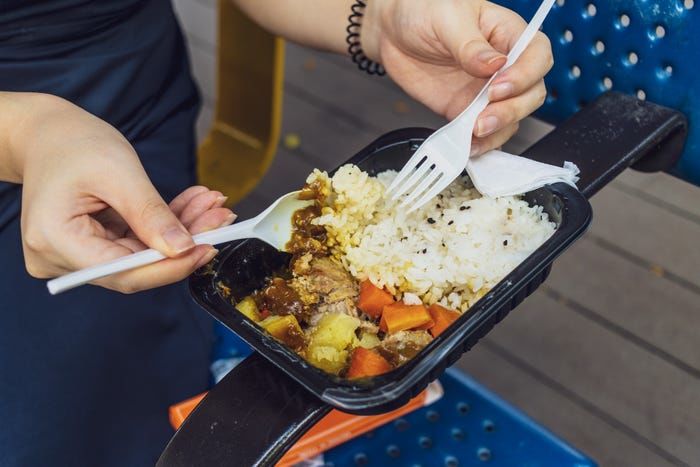 When I peeled the plastic covering off the top of the dish, hot steam immediately puffed up. Strangely, despite the steam, my first bite of rice was cold.

The box of food, for which I paid S$4.50, was clearly not heated through evenly, which was a pity, since the flavors were otherwise good.

The gravy was not spicy but slightly sweet, the way Japanese-style curries often are. There were also generous chunks of chicken in the dish. I imagine it would be a good comfort meal if you're hungry in the middle of the night and just want a quick meal.

There were no tables or chairs near the vending machine, so I had to perch on a bench in a playground nearby while I ate my food.


Next up: freshly squeezed coconut juice. Singapore is hot and humid year round, making a fresh coconut the perfect way to recover from the heat during a shopping trip.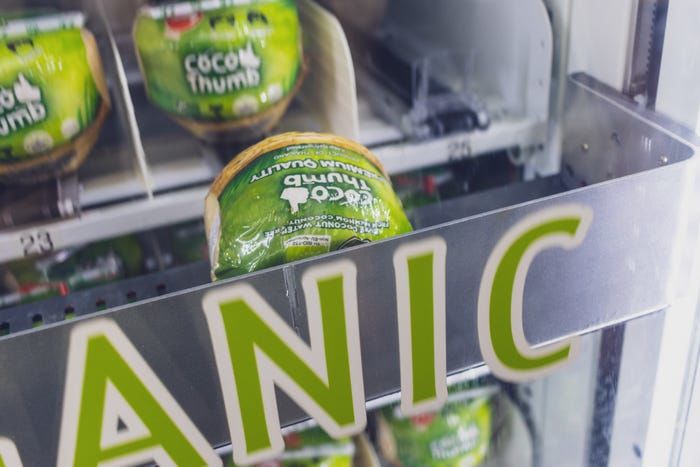 I got myself a coconut from a vending machine in the Bugis shopping area.

I'm not talking about bottled coconut water or coconut juice — this was a chilled, fresh coconut (S$4.50), husk and all.

There's no need to reach for a blade to slice it open either, as there's a contraption built into the top of every coconut to make it easy to open. All I had to do was pull a red lever on the top of the coconut, push down a plastic button, and stick in the attached straw to start drinking away.

Sweet.

CocoThumb, the company behind the 20 coconut vending machines across the country, told me it dispenses around 10,000 coconuts every month.


I didn't think it would be possible to buy a potted plant from a machine, but here we are.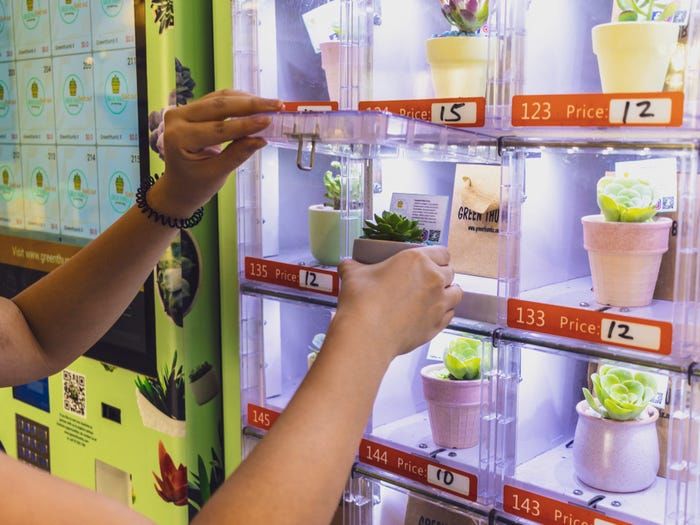 There was something futuristic about seeing rows of potted plants lit up in individual clear boxes at this machine.

There were dozens of options, but I finally chose a lush succulent in a matte lilac pot (S$12).

While there was no attendant on site to help provide care advice, my pot came with a note filled with tips. Mine read, "do not water this plant for the next 10 days."

Unfortunately, my originally green plant started to turn yellow in just three days.


Next, we popped into a shopping mall, where I embraced my inner child by browsing a vending machine full of toys.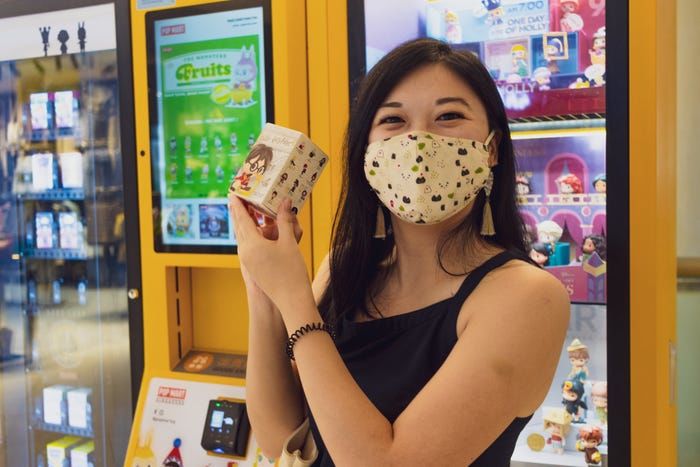 Chinese collectible-toy maker Pop Mart has several physical stores across Singapore, but it also sells toys via vending machines.

The machine was chock full of cute figurines, from original toy designs to collaborations with big brands like Disney.

I chose a Harry Potter figure with a Golden Snitch (S$13.90). As someone who grew up reading the Harry Potter books, it was just too hard to resist. I try not to tell too many people I'm a Hufflepuff.


Over in Geylang — Singapore's red-light district — I found a vending machine of an entirely different ilk. This one was stocked with lubricants and adult toys.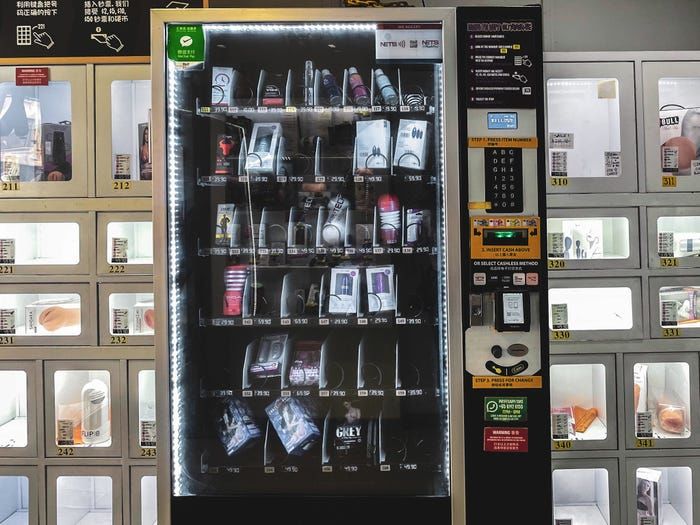 The vending machine was inside an adult store operated by MimiBox. The shop is open 24 hours every day.

The machine takes cash as well as cashless payment, including via Paylah, one of Singapore's mobile banking apps.

One reviewer on Google said the store was "like 7-11 but for adults," and that the prices were "not [a] rip off like other shops."


Then came time for perhaps the oddest vending machine of the entire tour. Tucked away in a corner of a local supermarket, I found a vending machine that dispenses Norwegian salmon.

The vending machine, which is aptly named "ATM," sells Norwegian salmon and was introduced in Singapore in 2018.

It's affordable: One pack of salmon fillet costs only S$3.90, while a pack of smoked salmon slices costs S$2.90.

The vending machine even dispenses salmon sashimi for S$5.90. There are six pieces per pack of sashimi, which comes with a small packet of soy sauce and a fork.

It has a 3.9 star rating on Google, but many buyers have said the salmon was fresh and tasty.


I bought a pack of sashimi to try, and it was good for the price.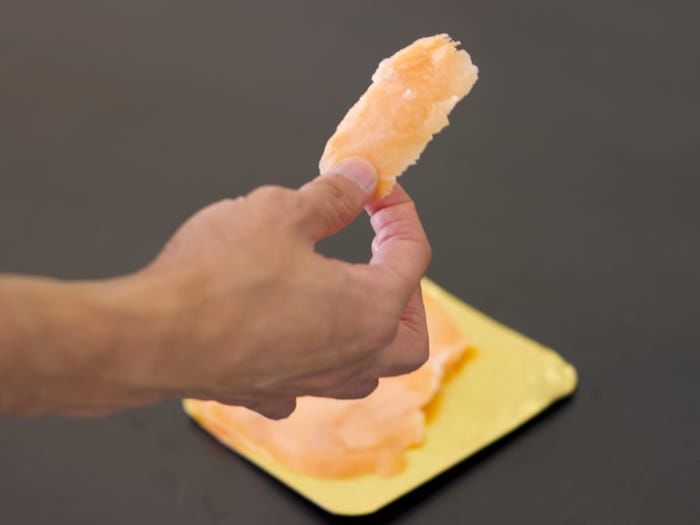 It came in a semi-frozen state.

It wasn't the freshest sashimi, but it tasted good enough, especially with the soy sauce that was provided. For me, it was worth the money, considering the size of the sashimi.


Finally, I stopped at a COVID-era vending machine: Singapore is one of the few countries in the world that has antigen rapid test (ART) vending machines.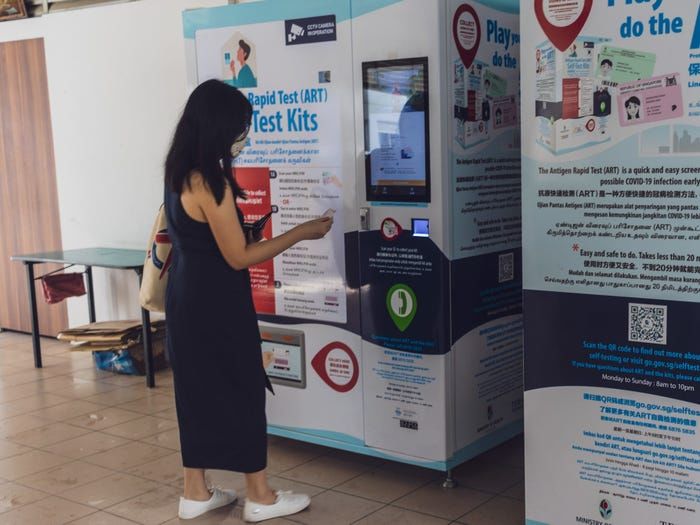 There are 100 ART vending machines around the country, per the Ministry of Health (MOH)'s website.

They're convenient, but they are not without caveats: The ART kits can only be dispensed if you are notified by the government, according to MOH. Only Singapore citizens and permanent residents can obtain kits from the vending machines, and will need to scan government-authorized documents to collect them.

In January, Australia's Leader of the Opposition, Anthony Albanese, posted a photo of a Singapore ART vending machine on Twitter, praising the city-state's government.

"Rapid tests available in vending machines in packs of five. What happens when a government plans ahead," Albanese wrote.

The kits, if obtained from the vending machines, are free. In comparison, a box of five kits costs S$21.95 ($16) at a local store.