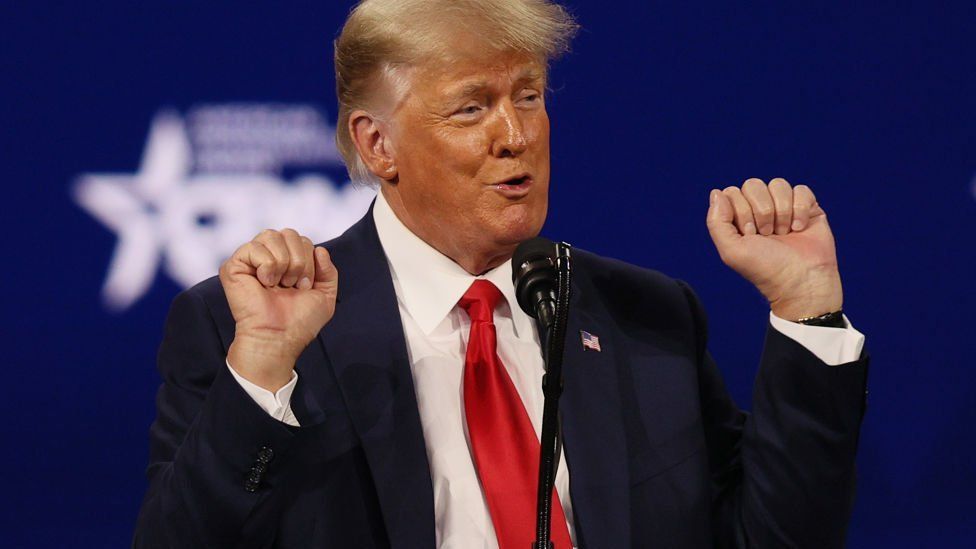 Judge declines to dismiss Amazon's Trump allegation
A US judge has refused to dismiss Amazon's allegations that political interference cost the company a $10bn (£7bn) Pentagon contract.
The 10-year JEDI contract is aimed at making the US defence department more technologically agile.

Amazon had been considered the favourite to win. However, the contract was eventually awarded to Microsoft.

The tech giant alleges Mr Trump's dislike of its founder Jeff Bezos influenced the final decision.

The ruling on Wednesday means that Mr Trump could be among those Amazon asks to appear in court as part of any future proceedings.

"The record of improper influence by former President Trump is disturbing, and we are pleased the Court will review the remarkable impact it had on the JEDI contract award," an Amazon spokesman said in a statement.

"AWS continues to be the superior technical choice, the less expensive choice, and would provide the best value to the DOD and the American taxpayer."

However, a spokesman for Microsoft insisted that the new ruling "changes little".

"Not once, but twice, professional procurement staff at the DoD chose Microsoft after a thorough review. Many other large and sophisticated customers make the same choice every week.

"We've continued for more than a year to do the internal work necessary to move forward on JEDI quickly, and we continue to work with DoD, as we have for more than 40 years, on mission-critical initiatives."

Four companies had initially been in the running for the deal when the process was launched in 2017.

IBM was eliminated, as was Oracle, which lodged an unsuccessful legal challenge alleging conflict of interest stemming from Amazon's hiring of two former defence department employees. Both were said to have been involved in the JEDI selection process.