The PepsiCo and Reckitt veteran is taking the reins from interim CEO Howard Schultz as the brand faces scrutiny over its dealings with union leaders.
Starbucks officially has a new CEO.

The Seattle-based coffee chain on Monday announced that Laxman Narasimhan has officially taken the reins as Starbucks chief executive, nearly two weeks earlier than planned. Narasimhan was named CEO last September, succeeding interim CEO Howard Shultz.

Narasimhan is new to the coffee industry, having started his career in the consulting world before joining PepsiCo, and, later, British consumer goods company Reckitt Benckiser. Now, as he takes the helm of Starbucks, he'll be tasked with navigating the company's often contentious relationship with leaders at the nearly 300 of its stores nationwide that have voted to unionize.

Here's how Narasimhan got his start and rose to become CEO of the world's biggest coffee chain.

Narasimhan built his career in the beverage and consumer-goods industries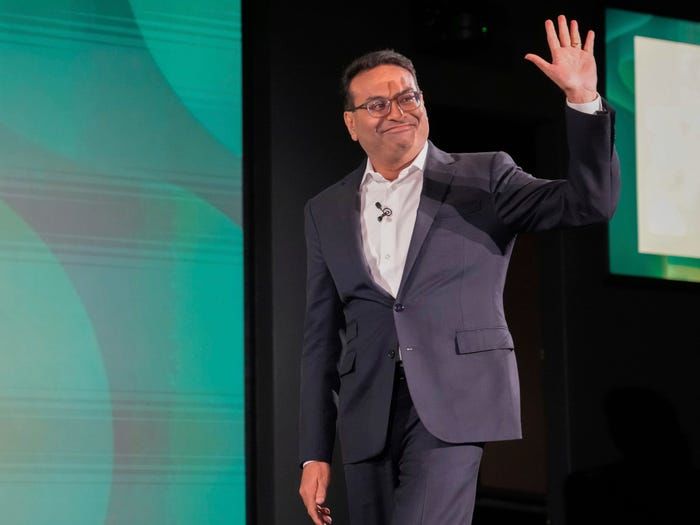 Laxman Narasimhan at Starbucks Investor Day in September 2022.


Narasimhan earned a mechanical-engineering degree from India's Pune University before moving to the US in the early 1990s to study at the University of Pennsylvania. He completed a master's in German and international studies as well as an MBA from Penn's Wharton School, The Telegraph reports.

Narasimhan's career began at consulting firm McKinsey & Company, where he focused on the retail, consumer goods, and healthcare industries over the course of nearly two decades. He spent time living and working around the globe, including in Cleveland, Ohio; Toronto; Silicon Valley; Tokyo; and New Delhi, according to The Telegraph.

He joined PepsiCo in 2012, working in multiple roles during his seven years at the food and beverage firm, including CEO of its Latin America business and later, global chief commercial officer.

Narasimhan speaks six languages: English, German, three Indian languages, and conversational Spanish. He currently serves as a trustee of the Brookings Institution and is a member of the Council on Foreign Relations, the UK's Build Back Better Council, and Verizon's board of directors, according to Starbucks.

He left Lysol-maker Reckitt to join Starbucks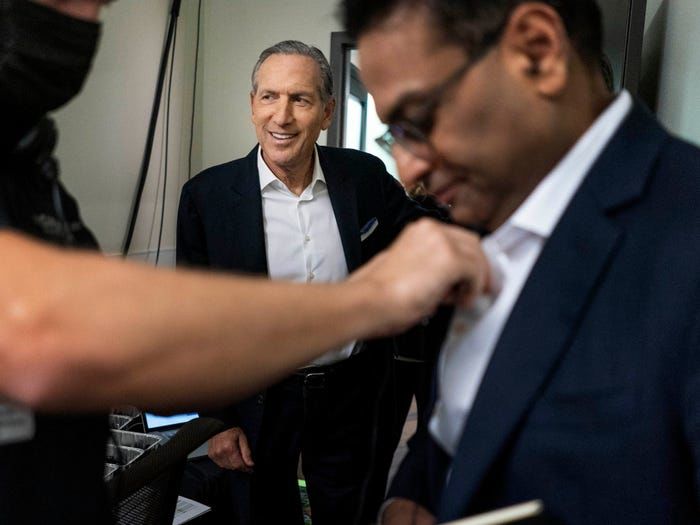 Starbucks founder Howard Shultz, in the background, and incoming CEO Laxman Narasimhan.

In 2019, Narasimhan was tapped to lead Reckitt, the owner of brands like Lysol, Durex, Enfamil, and Mucinex. He's credited with steering the company through skyrocketing demand driven by the pandemic and executing a successful turnaround of the business.

His departure from Reckitt, announced in September 2022, came as a surprise to investors, who said the brand was just "getting its mojo back." Reckitt said at the time that Narasimhan was moving back to the US — he and his family previously lived in Connecticut during his tenure with PepsiCo — as he was approached with a new opportunity. The same day, Starbucks announced that Narasimhan would be its next CEO.

Starbucks said at the time that Narasimhan would begin as CEO on April 1, taking over for interim CEO Schultz. The longtime Starbucks leader built the brand into a coffee empire before stepping down in 2018 ahead of a presidential bid. Schultz returned to the company in March 2022 following CEO Kevin Johnson's retirement.

Starbucks said Monday that Narasimhan spent the last five months participating in "a unique immersion experience" that included working alongside employees at over 30 stores, manufacturing plants, and support centers worldwide and learning how to be a Starbucks barista. According to the company, his favorite drink is a doppio espresso macchiato with hot skim milk on the side.

The new CEO must tackle union-busting criticism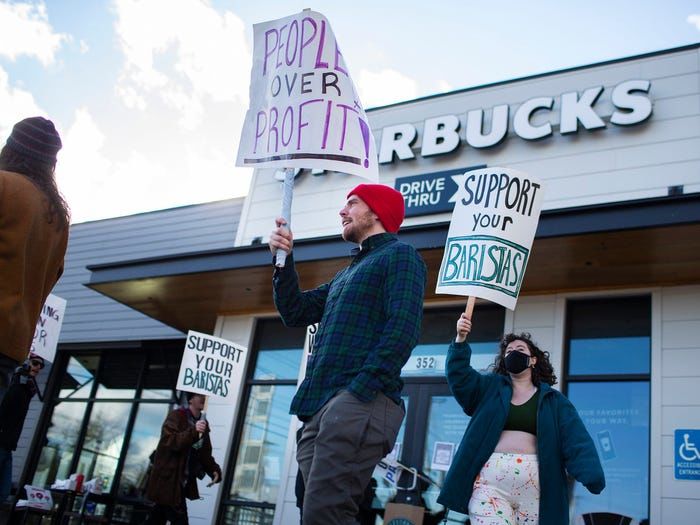 Starbucks workers in Biddeford participate in November's Red Cup Rebellion, a nationwide strike demanding the company fully staff union stores and bargain in good faith.

Narasimhan takes over the reins at Starbucks as the chain faces increased scrutiny over the company's conduct with union leaders. Of the 365 Starbucks stores that have held votes to unionize, 292 have voted to form a union.

But bargaining hasn't gone well, with Starbucks being accused of union-busting, and both sides accusing each other of stalling or not bargaining in good faith. Both sides have filed dozens of complaints with the National Labor Relations Act.

Taking center stage in the union battle is Narasimhan's predecessor, Schultz. He is set to testify next week at a US Senate hearing about the chain's handling of union activity. It's unclear what Narasimhan's position will be when it comes to the ongoing union movement at Starbucks.

In a previous statement, Starbucks said Narasimhan is expected to "reaffirm our long-standing efforts to create opportunity for all partners and the communities we call home."