Conspiracy theories about Vladimir Putin using body doubles are nothing new, but some of his recent public appearances have caught people's attention.
A video circulating on social media attempts to question the reality of Putin's surprise visit to Russian-occupied territories in Ukraine, asking 'Who visited Mariupol?'

It is unclear who created the video but it appears to be aimed at Russian nationals who rely on the country's state TV for their news.

The footage states: 'Specialists long ago noticed the differences between the Russian president's body doubles.

'A ledge on Putin's earlobe constantly changes as does a small mole on his face.

'One of the Putins has straight wrinkles on his face, the other has small and interrupted [wrinkles].

'This is impossible even if he had botox injections.'

Anton Gerashchenko, an official based in Kyiv, posted three images of Putin's chin and questioned how they could all be his.

One picture showed Putin in Sevastopol on March 18 with a sagging chin, but on March 19 in Mariupol, his chin was tight.

Ukraine duly mocked the Russian president for allegedly 'sending a lookalike to war-ravaged Mariupol' in the high-security visit.

'Evidently the weakest double was sent to Mariupol,' the video states in Russian.

It taunts: 'What's up with your chin, Putin? They forgot to put in his jaw.'

The video also questions if the 'double' has false teeth, adding: 'After all, how many Putins do we have? Who is ruling Russia?'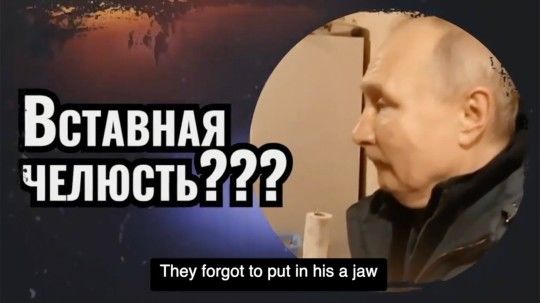 There are claims makeup artists help put the doppelgangers together

Mr Gerashchenko continued: 'Looks like lately his make-up artists (i.e. for the recent trips of the bunker man to the occupied Crimea and Mariupol) had to work with quite a low-quality copy, not even a double but its copy.

'I wonder which one of them was real?'

This builds upon claims made in the past suggesting Putin has regular plastic surgery to make him look younger since becoming president in 1999.

There are other rumours his 'understudies' have also undergone plastic surgery to resemble him, and are often deployed to various places.

This comes amid rumours his health is worsening from cancer or early stage Parkinson's.

Former Putin associates from his time working for the KGB have also claimed he uses body doubles.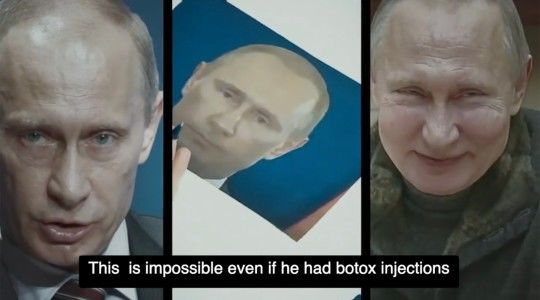 There are claims the Russian dictator has had botox in the past

Sergei Zhirnov used to believe these were conspiracy theories but now says Putin uses them.

He said Putin was isolated, 'skinny' and coughing on February 21, but his appearance at a pro-war rally the next day was different.

He told Ukrainian TV 'a totally different Putin pops up' with 'a wider face as if he bloated in 24 hours.

'He has a totally different shape of eye orbits, a totally different head, absolutely different wrinkles – a different voice,' he claimed.

Former Putin speechwriter Abbas Gallyamov warned the existence of body doubles posed a risk if Russia lurched into a coup.

'The presence of a double can interfere: you think that you have arrested Putin, but it turns out that you have held his understudy,' he said.

'You can arrest a stand-in, show him on TV signing his "resignation", and announce the transfer of power to the prime minister or to some Committee of National Salvation.'

But it would be necessary for the 'original Putin to prove that he is him, and not a double'.

He stated: 'In short, if the doppelganger exists, then the people responsible for his movements are potentially very important participants in the process and the organisers of the conspiracy should not forget about them.'

In October 2022, it was claimed a Putin 'body double' was deployed for a public appearance in which the tyrant was seen shooting a sniper rifle and greeting soldiers at a military training camp.

And in December it was claimed he used deepfakes and body-doubles to attend public events to mask his rapidly deteriorating health.