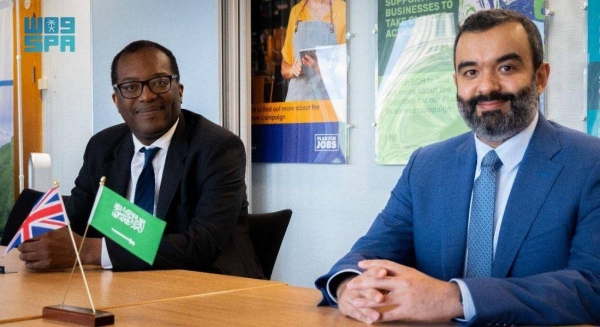 Saudi Arabia, UK seek to boost cooperation in space economy
Chairman of the Board of Directors of the Saudi Space Commission (SSC) Eng. Abdullah Amer Al-Sawaha met here on Thursday with British Secretary of State for Business, Energy and Industrial Strategy Kwasi Kwarteng, as part of his visit to the United Kingdom to enhance cooperation between the two countries in the field of the space economy.
During the meeting, which was also attended by the SSC president-designate, Dr. Mohammed bin Saud Al-Tamimi, the two sides stressed the importance of stimulating the participation of the two countries' private sector in the area of the space economy and promoting investment in developing human capabilities.

They also discussed cooperation in the field of the development of human capabilities in the space sector.

This visit comes within the framework of the SSC's endeavor to build effective international partnerships in this field so as to enhance the commission's role and support its steps toward achieving its strategic goals for the Saudi space sector, which represents a national priority, and to contribute to the Kingdom's transformation toward an innovation-based and space economy.The visit also seeks to attract investments, open new markets that can serve as a source of economic diversification and create new jobs and make the Kingdom a leader in the field of the space economy.

Moreover, Saudi Arabia seeks to transform the space sector as a major contributor to its prosperity and leadership as well as achieving the Kingdom's Vision 2030 through the development and organization of the sector.

Early this month, Saudi Arabia announced the launch of the first Saudi program on scholarship in order to achieve its goals in the space sector.

The program, which ends with employment in the space sector, will provide quality educational opportunities for Saudi male and female students offering them specialties related to space science in the most prominent universities around the world.