Electric car manufacturer Tesla plans to expand vehicle battery and semi-truck manufacturing operations in Nevada
The State of Nevada awarded Tesla more than $330 million in tax breaks for the electric vehicle manufacturer's plans to expand its vehicle battery facility and semi-truck plant.

In a press release on Thursday, Nevada Gov. Joe Lombardo's Office of Economic Development announced it had approved a $330,250,366 abatement for Tesla, Inc.

The announcement comes as Tesla has pledged to make a $3.6 billion investment at its Storey County facility and create 3,000 jobs at an average hourly rate of $33.49.

"Tesla has far exceeded every promise they made going back to 2014," Lombardo said. "To date, they have invested $6.2 billion in Nevada, built a 5.4 million square foot Gigafactory which provided 17,000 local construction jobs and created more than 11,000 highly paid permanent jobs."

The release said Tesla has plans to add 4 million square feet between two new factories.

One of the factories will manufacture 100-gigawatt-hour battery cells and have the capacity to make batteries for 1.5 million light duty trucks per year.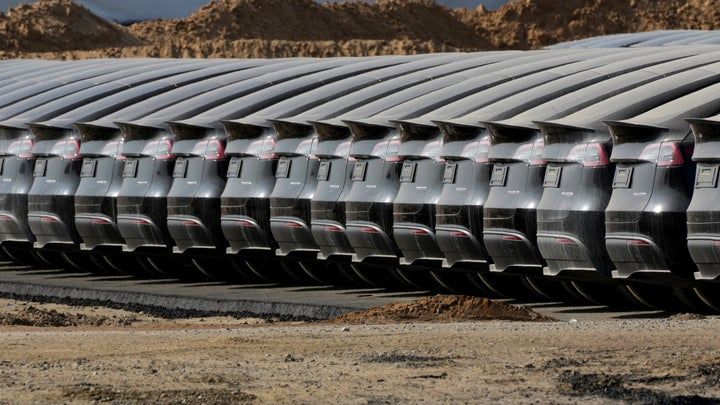 Tesla cars are parked at the construction site of the new Tesla Gigafactory for electric cars in Gruenheide near Berlin, Germany, Friday, March 18, 2022.

The other factory will manufacture fully electric semi-trucks with a range of 500 miles.

According to the press release, 9,275 construction jobs and 5,858 additional jobs will be created because of the projects for the next four years.

The expansion also could bring in $2.2 billion per year, or $38 billion over the next 20 years, and the 3,000 people Tesla will employ at the factories once up and running will generate $209 million in annual wages by 2030.
On top of that, Tesla should generate an estimated $21.8 million in gross average annual property tax revenues and $11.2 million in gross average annual sales taxes.

In total, the establishment of the factories is estimated to pull in $685 million in net state and local revenues over the next 20 years, the press release said.

"Since the inception of [Governor's Office of Economic Development,] the main goal has been to diversify Nevada's economy," Tom Burns, GOED Executive Director said. "The Nevada-Tesla partnership cemented a new economic sector in Nevada for the manufacturing of electric vehicle battery packs and drive units, and energy storage products. Tesla's Gigafactory propelled Nevada's manufacturing industry, establishing lithium-ion batteries as the state's eighth largest export both nationally and internationally."

Tesla also had an abatement agreement in 2014. Because of that agreement, Tesla will begin paying at least $53 million in real and personal property taxes and business taxes for the Gigafactory starting on July 1, 2024.