Our ultimate demise is inevitable, but a growing number of experts believe how we feel in our later years may not be.
They talk of "healthspans" - the number of healthy years of our lives.

Life expectancy may have doubled over the last 150 years, but many of us have seen the undignified and devastating decline of our loved ones as they aged.

To avoid that fate a new industry is emerging, promising a longevity revolution with techniques they say lead to healthier, longer lives.

Business is booming for those in this space, with supplements being touted as having the ability to battle our cellular decline, and all sorts of hot and cold therapies trying to help us reduce inflammation and disease risk in our bodies.

So I set out on a trip to the centre of it all, California, unsure as to whether I was arriving at the heart of a money-spinning cult, or the next frontier of medicine.

Tech entrepreneur Bryan Johnson is spending millions a year trying to reduce his biological age - how old his body seems, rather than his actual chronological age, which is 45.

There's a good reason for any of us to do this. Age is the highest risk factor for disease, whether it's cancer, type 2 diabetes, heart disease, or dementia, so if ageing as a whole could be delayed, then so could the risk of onset of these conditions. For him though, it's a sport.

In Mr Johnson's luxurious Venice Beach home, a bedroom has been converted into a clinic where he spends many hours.

He wakes at 5am, eating his first meal an hour later, followed by a second, and final one at 11am. This, combined with a forensically selected 54 pills, a mix of supplements and off-label medication, are all planned based on readings from a catalogue of tests.

His days consist of a torturous exercise regime, monitoring and numerous treatments.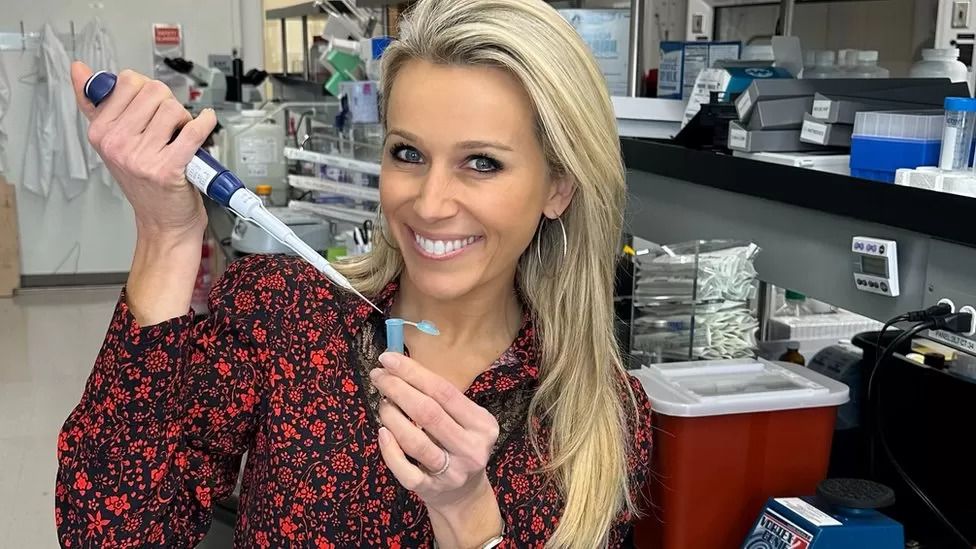 Lara visited labs and companies in California focusing on longevity

He told me the all-over skin laser treatment he's been having has reduced his skin age by 22 years, the greatest age reduction in any part of his body.

The aesthetics are just a small part of it all though, as he reminds me "our skin is our biggest organ".

Mr Johnson was warm, logical and likeable. I left his house wanting to be (a bit) like him. Maybe I am already - I run 5km a day, try to avoid sugar, and test extreme tracking devices for fun.

My colleagues considered Mr Johnson's existence joyless, so his life is clearly not for everyone.

While his routine might seem extreme, every conversation I had still came back to lifestyle.

"Lifestyle is responsible for about 93% of your longevity - only about 7% is genetics," says Eric Verdin, chief executive of The Buck Institute for Ageing Research.

"Based on the data [if we live healthily], I would predict that most people could live to 95 in good health. So there's 15 to 17 [extra] years of healthy life that is up for grabs for all of us," he told me.

The big question, which Mr Verdin and others are investigating, is what does a healthy lifestyle mean? Take exercise for example - should that be a daily stroll, or a HIIT class?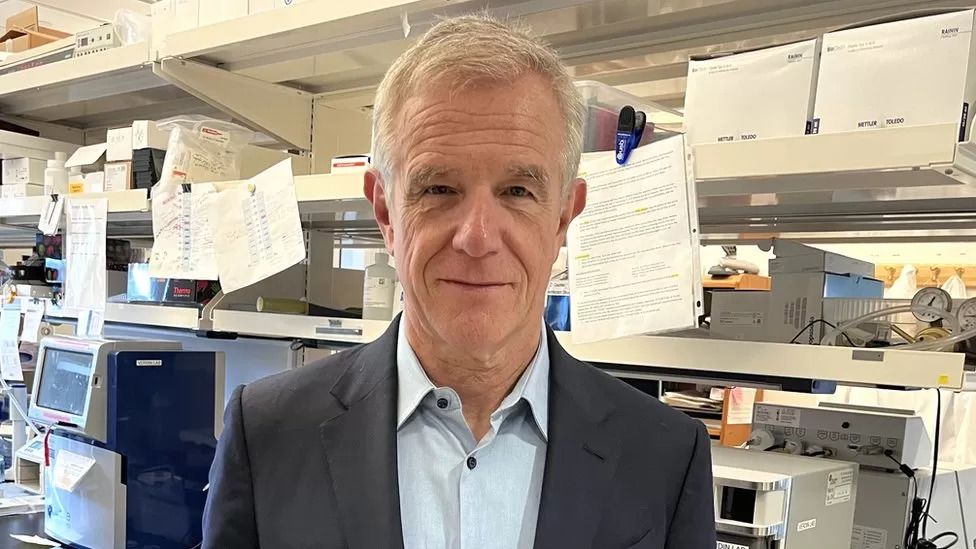 How you age is closely linked to lifestyle, says Eric Verdin, chief executive of The Buck Institute for Ageing Research

The same goes for healthy eating. Is fasting as important as avoiding sugar? And what about a good night's sleep?

You can't underestimate the obsession with sleep I came across. I met many people setting their alarms not to wake up in the morning, but to remind them to go to bed on time for a full eight hours.

Well, we all set the bar at different levels.

Mr Verdin practises what he preaches, his regime consisting of "a whole lot of exercise, some fasting, good sleep, lots of social connections, very little alcohol".

His suggestion for others? "Try to spend at least 14 hours of your 24 hours without ingesting any calories as this has a profound effect on your metabolism."

The jury is out on how healthy this is for some women though.

Keeping better track of our bodies as they age might help. Health risks could be flagged in advance and any new drugs could be applied just at the right time.

Make it personalised, make it pre-emptive, make it better is the mantra.

It was interesting to see that pretty much all of those working in longevity science wear more than one tracker themselves - commonly a smartwatch and a smart ring (way more convenient for sleep I can tell you - and these people are obsessed with prioritising sleep).

For my part I've found health tracking illuminating. I am not diabetic, but have been fascinated by the findings of a continuous glucose monitor I wore for a while.

The assumption is progress on longevity will come, albeit in a less sensational form than some may be hoping for.

Experts suggest that a drug might emerge that will initially make a year or two's difference, then a few years more with the next generation, and so on.

But along with such progress will come practical and ethical dilemmas.

One fundamental question is whether ageing can be defined as a disease. This might simplify the approval of drugs by regulators, but risks labelling people over a certain age "diseased".

The cost of such treatments may or may not (for developed medical systems anyway) be an issue, depending on what it turns out to be.

Meanwhile, a healthier life is likely to lead to a few extra years of existence, so we may need to work longer.

On my longevity learning mission, my expectations were upturned.

I'd seen the sensationalist headlines, suggesting tech billionaires lounging on their yachts, deliberating over whether they fancied saving the world, going to space, or "curing" ageing.

This wasn't the reality I saw. The wealthy have been giving money to medical research for years. This is just a new generation of wealth, and a potential new specialism of medicine.

Plus it's really interesting, and affects us all.

But right now, extending your healthspan involves hard work. As Silicon Valley-based journalist Danny Fortson put it: "Exercise is hard, magic pills are easy, so that's why everyone is so excited about the pill."

So I returned home feeling more determined than ever to live my healthiest life - sleep better, exercise without excuse, eat well, cherish social connections (yes, this was on the longevity prescription).

With a bit of luck that might buy me enough time to benefit from any scientific breakthroughs.