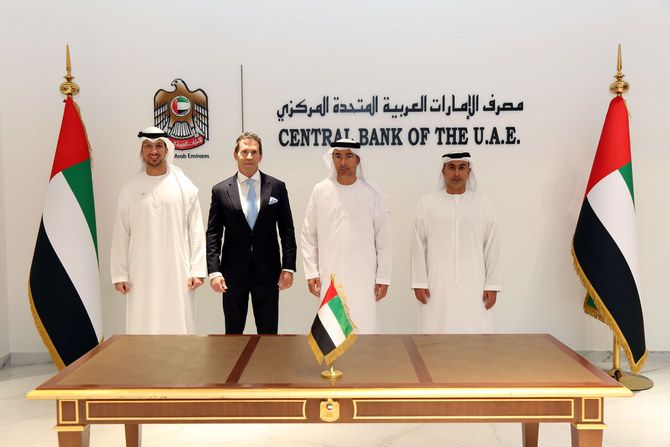 UAE Central Bank launches digital currency strategy  
The Central Bank of UAE has launched its digital currency implementation strategy, a part of the bank's Financial Infrastructure Transformation initiative, as the emirate aims to become a regional financial hub.
Aimed at developing the proper infrastructure and technology needed to implement cyber cash, the bank signed new deals with cloud computing company Group 42 Cloud and financial digitization provider R3.

The first phase of the strategy is set to be completed in 12 to 15 months and will comprise three significant pillars, including the soft launch of mBridge which helps facilitate real value cross-border central bank digital currency transactions.

The second pillar is to create a proof-of-concept for bilateral digital currency bridges with India, which is one of the UAE's top trading partners, while the third aspect is to prove efficiency for domestic issuance in wholesale and retail sectors.

"Central bank digital currency is one of the initiatives as part of the Central Bank's FIT program, which will further position and solidify the UAE as a leading global financial hub," Khaled Balama, Governor of UAE Central Bank, said.

The FIT program is a set of nine initiatives that aim to help the UAE become a regional financial hub. The implementation of the program is divided into three phases and will be fully completed by 2026.

In its first phase, the program aims to boost the UAE's financial sector by enabling digital currency, launching a card domestic scheme, and establishing an instant payment platform.

"The launch of our digital currency strategy marks a key step in the evolution of money and payments in the country. Central Bank Digital Currency will accelerate our digitalization journey and promote financial inclusion. We look forward to exploring the opportunities that CBDC will bring to the wider economy and society," Balama added.

Implementing digital currency will support the UAE in serving a secure and cost-effective form of payment.

The strategy will further strengthen the country's payment infrastructure by providing additional payment channels and ensuring a reliable financial system.