At least two chipmaking ecosystems would be created by 2030, Commerce Secretary Raimondo says
The U.S. will target funds from the $53 billion Chips Act to create at least two semiconductor manufacturing clusters by 2030, according to Commerce Secretary Gina Raimondo, marking the initial stages of a plan to bring more chip manufacturing back to the U.S.

The aim would be to create ecosystems that would bring together fabrication plants, research-and-development labs, final packaging facilities for assembly of chips and the suppliers needed to support each phase of the operation, Ms. Raimondo said.

"When we are done implementing this by 2030, America will design and produce the world's most advanced semiconductor chips," she told reporters in a briefing Wednesday.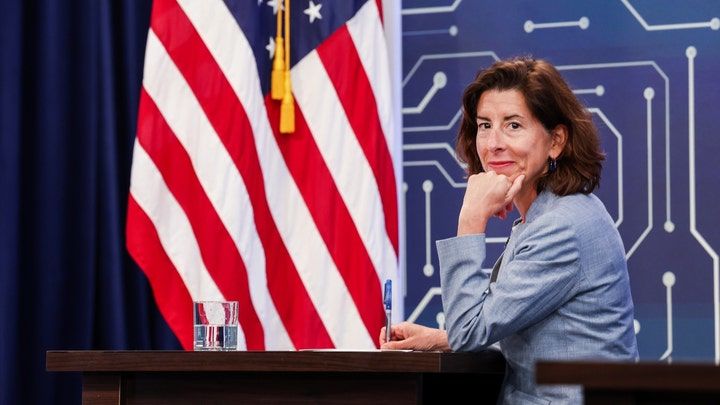 U.S. Secretary of Commerce Gina Raimondo listens as U.S. President Joe Biden participates virtually in a meeting on the Creating Helpful Incentives to Produce Semiconductors (CHIPS) for America Act, in the South Court Auditorium at the White House on

Ms. Raimondo is scheduled Thursday to outline the plans in a speech at Georgetown University. Next week, the Commerce Department is set to disclose further details on how companies can apply for funds.

Ms. Raimondo didn't say where the clusters would be located, but Arizona, Ohio and Texas would likely be in the running based on investment plans by companies that now produce leading-edge chips: Intel Corp., South Korea's Samsung Electronics Co. and Taiwan Semiconductor Manufacturing Co.

Intel has said it would invest $20 billion each in facilities in Chandler, Ariz., and New Albany, Ohio. TSMC has a $40 billion project under way in Phoenix, and Samsung Electronics is investing $17.3 billion in a plant in Texas.

Micron Technology Inc. and Texas Instruments also have disclosed investment plans.

The program has already triggered an investment boom, with U.S. and foreign manufacturers unveiling more than 40 projects for total investments close to $200 billion, according to the Semiconductor Industry Association, a trade group.

The Chips Act was signed into law in August by President Biden following its passage in Congress with bipartisan support. It provides $39 billion in incentives to help build and expand manufacturing facilities and more than $12 billion for research and development, as well as workforce development.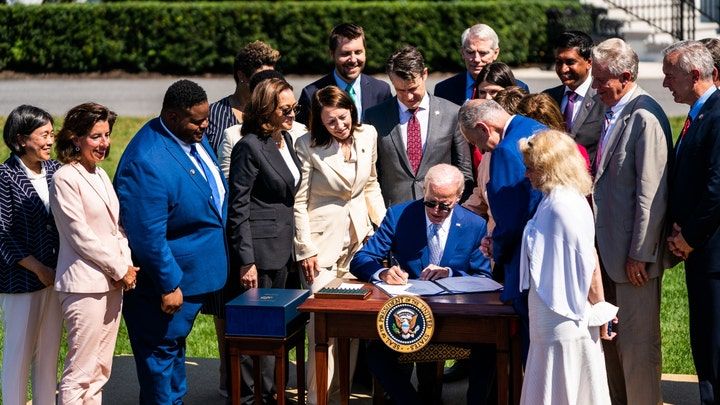 WASHINGTON, DC August 9, 2022: US President Biden signs into law the CHIPS and Science Act of 2022, on the South Lawn of the White House in Washington, Tuesday, August 9, 2022. Left to right: Founder and CEO of SparkCharge Joshua Aviv, US President J

The legislation came after a shortage of semiconductors hurt the production of autos, appliances and other products during the pandemic and concerns grew about the concentration of advanced-chip production in East Asia as economic rivalry with China intensified.

Industry advocates have expressed concerns whether funding might be spread out too thinly, or if the U.S. would be able to field enough skilled workers to build and operate new facilities. Ms. Raimondo said the government would be pressing chip companies to join with high schools and community colleges to train more than 100,000 new technicians in the coming years.

As companies shifted factories overseas in search of cheaper labor and production costs, the U.S. share in the global semiconductor production has fallen to around 10% from 37% in 1990. The U.S. doesn't mass-produce the most advanced chips, defined as those smaller than 5 nanometers, while Taiwan, at the center of geopolitical tensions with China, accounts for 85% of those.

"The Chips Act is so essential because over the past few decades, we as a country have taken our eye off the ball and let chip manufacturing move overseas," Ms. Raimondo said.

Will Hunt, an analyst for Georgetown's Center for Security and Emerging Technology, recommends the U.S. reshore enough capacity to become fully sufficient in producing the most advanced chips.

Mr. Hunt, who now serves as a Commerce Department adviser, said in a 2022 report that $23 billion of incentives provided through the Chips Act would allow the three companies with such technologies—Intel, Samsung and TSMC—to maintain or establish long-term presences in the U.S. to meet the domestic needs through 2027.

Ms. Raimondo said the Chips Act would also fund plants making advanced memory chips—a segment now experiencing oversupplies and falling prices—on "economically competitive and sustainable terms." The U.S. also will increase its production capacity for current-generation and mature node chips, needed for autos, medical devices and defense equipment, she added.

The rollout of the application process is expected to intensify the competition among companies vying for the subsidies.

Ms. Raimondo said the selection of recipients will be driven by how their plans fit into the government's national security goals. "The purpose of this legislation isn't to subsidize companies because they're struggling in this cyclical downturn. It isn't to help companies necessarily become more profitable in America," she said. "The reality is the return on our investment here is the achievement of our national security goal."

She added that there will be "many disappointed companies" over the amounts they will receive.

The new clusters will be built by union workers as called for under the terms of the Chips Act, Ms. Raimondo said, and afterward will be a source of thousands of jobs, many of which won't require a college degree.

The Chips Act will also fund a research- and-development program called the National Semiconductor Technology Center, which will bring together universities, the industry, entrepreneurs and private capital to work on advanced technologies, she said, and help meet the need to triple the number of college graduates in semiconductor-related fields over the next decade.