The company behind the websites Vice and Motherboard has filed for bankruptcy in the US and is set to be sold to a group of its lenders.
Vice Media Group - which was valued at $5.7bn (£4.5bn) in 2017 - could be taken over for $225m.

The youth-focused digital publisher said it will continue to operate during the bankruptcy process.

It added that it "expects to emerge as a financially healthy and stronger company in two to three months".

Launched in 1994 as a fringe magazine called Voice of Montreal by Shane Smith, Gavin McInnes and Suroosh Alvi, Vice currently operates in more than 30 countries.

It was once heralded as part of vanguard of companies set to disrupt the traditional media landscape with edgy, youth-focused content spanning print, events, music, online, TV and feature films.

After a visit to the Brooklyn-based firm's office in 2012, media mogul Rupert Murdoch tweeted: "Who's heard of VICE media? Wild, interesting effort to interest millennials who don't read or watch established media. Global success."

 Past credits have included My Journey Inside the Islamic State, in which a Vice journalist filmed alongside the terror group in Syria. It also followed basketball star Dennis Rodman and the Harlem Globetrotters team on a "sports diplomacy" trip to North Korea.
More recent fare has included documentaries about controversial influencer Andrew Tate and a film about Ukraine's president, Volodymyr Zelensky, by actor Sean Penn.
Vice Media Group's investors include Fortress Investment Group, Monroe Capital and Soros Fund Management - the firm founded by fund manager and billionaire George Soros.
The hope was that Vice would reap the financial rewards from attracting millions of younger readers through social media networks such as
Facebook
and Instagram.
However, the company's revenues have been flat for some years and it has also struggled to turn a profit. Vice's plans to go public through a merger also failed.
"The issue with Vice and all similar websites is that they never really worked out a business model for free online journalism," Joseph Teasdale, head of technology at Enders Analysis, told the BBC.
Websites like Vice came along at the same time as the first dotcom boom was in its infancy and technology start-ups were springing up.
"There was a tendency at the time to treat everything like software, where you do your investment up front, attract a bunch of users, and then eventually when you're big enough you become incredibly profitable," he said.
"But it turns out content doesn't work like that - if you want people to keep coming back to your website, or to reach new people in new markets, you have to keep spending to make new content."
And some of Vice's content was "pretty expensive journalism", Mr Teasdale said, involving global trips.
Last month, Vice announced layoffs after its flagship TV programme was shut down.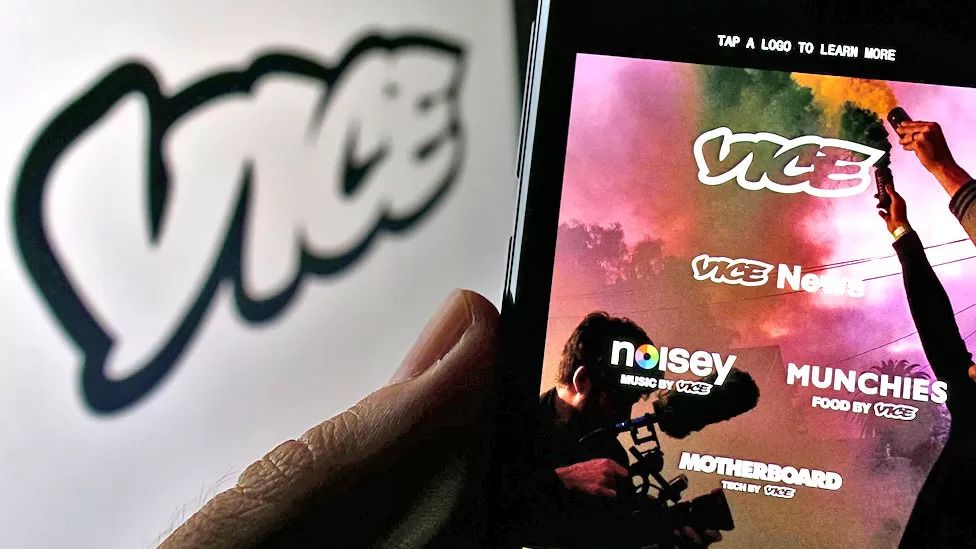 BuzzFeed, another pioneering online platform, also recently announced that it was shutting down its news division and laying off 15% of its workforce amid serious financial challenges and a slump in advertising revenue.

Vice Media has filed for Chapter 11 bankruptcy protection, a procedure which postpones a US company's obligations to its creditors, giving it time to reorganise its debts or sell parts of the business.

Announcing the bankruptcy move, Bruce Dixon and Hozefa Lokhandwala, Vice's co-chief executive officers, said: "This accelerated court-supervised sale process will strengthen the company and position Vice for long-term growth."

Vice's lenders have approved $20m of funding to keep the firm going through the bankruptcy process. During this time, other firms can submit "higher or better" bids for the media company.

If these offers are not successful, Vice Media's lenders will acquire the publisher for $225m.

The sale process is expected to take about two to three months.