Nick Read will step down as Vodafone (VOD.L) chief executive by the end of the year, ending a four-year tenure during which the British telecom group's share price has nearly halved.
Once one of the biggest mobile operators in the world, Vodafone has been selling assets to focus on Europe and Africa, but the deals have not arrested its stock's decline.

Vodafone's board was unhappy with Read's lack of progress in delivering growth and has tasked his interim replacement, finance director Margherita Della Valle, with accelerating "the execution of the company's strategy to improve operational performance and deliver shareholder value".

The company warned on profit last month as energy costs soared, an already poor performance in its biggest market Germany worsened, and intense competition in Spain and Italy showed no sign of easing.

Read had pinned his hopes on the consolidation of Europe's fragmented telecoms markets but he struggled to turn intention into action. With the economic outlook darkening, the window for deals may be closing, analysts said.

Vodafone was outmanoeuvred in Spain when Orange and MasMovil agreed to merge in July, while there has been no answer to its Italian problem since it rejected an offer for its business there from French telecoms billionaire Xavier Niel's Iliad and Apax Partners in February.

Read did extract value from Vodafone's mobile towers by spinning them out and selling a chunk of the listed company to private equity firms Global Infrastructure Partners and KKR, and recently agreed to sell its Hungarian business.

Vodafone is also in talks to merge with Hutchison's Three in Britain, but it will be a race to get the deal over the line before Read leaves.

The towers deal and the UK talks were not enough to placate shareholders, however, who are focused on Vodafone's ability to navigate tougher economic conditions.

Vodafone's shares, which have fallen 45% since Read took over in October 2018, are trading just off two-decade lows.

"I agreed with the board that now is the right moment to hand over to a new leader who can build on Vodafone's strengths and capture the significant opportunities ahead," Read said.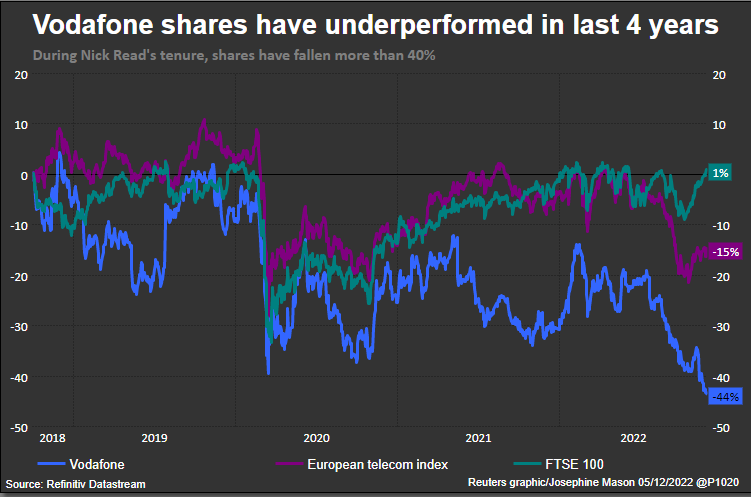 Vodafone shares underperform

HEADWINDS

Vodafone's shares gave up early gains to trade 0.2% lower in afternoon deals.

"The next question is what solutions are really available to the next CEO?" Jefferies analysts wrote.

Vodafone faces "intractable headwinds", they said, adding that dividend policy should be treated as under review.

Niel, who bought a 2.5% stake in Vodafone in September, said in an emailed statement: "A change of CEO only makes sense if the new CEO has a clear roadmap from the board of directors."

He said the roadmap should include streamlining Vodafone, selling infrastructure to reduce debt, driving cash generation and improving margins and focusing on broadband in Germany.

He said his vehicle, Atlas Investissement, was ready to help the board design the best possible roadmap.

Read, 58, cut Vodafone's dividend for the first time in 2019, citing a worsening outlook, and need to cut debt and invest in networks.

The shares are supported by a dividend yield of more than 8%, but its forecast of around a 300 million euro fall in free cash flow this year worried investors.

Read, however, said last month the dividend was "intrinsically" linked to Vodafone's mid-term growth ambition.

The board has begun the search for new CEO, the company said.

Della Valle, who will receive the same base salary as Read, would be considered if she put her name forward, analysts said.

Read, who has spent more than 20 years at Vodafone and who will remain as an adviser until March, will receive his base pay of just over a million pounds until end-March 2023, and an amount in lieu of his salary for the remainder of his 12-month notice period, Vodafone said.

He will also receive up to 7,000 pounds for legal fees related to his departure and up to 50,000 pounds of "outplacement support", it added.