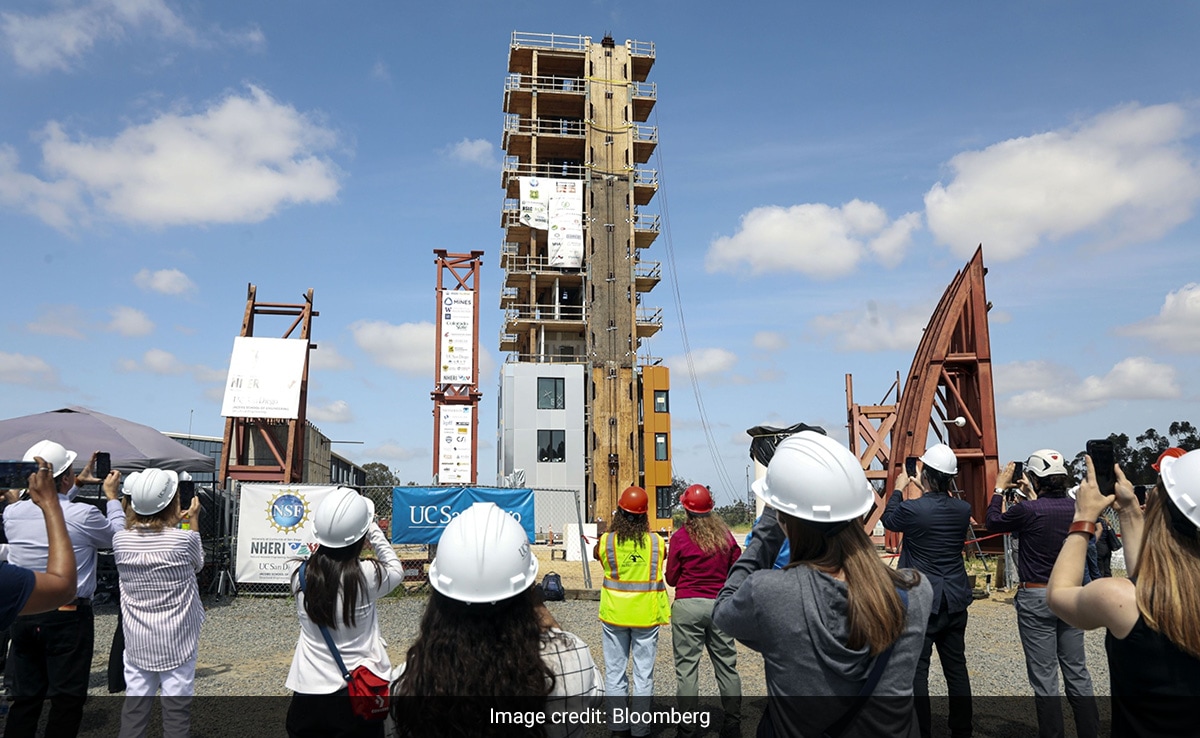 Wooden High-Rise Survives Over 100 Simulated Earthquakes
A 10-story wood building in San Diego, California survived more than 100 simulated earthquakes on the world's largest high-performance "shake table." The building was tested as part of the TallWood Project, which aims to assess the seismic resiliency of high-rise buildings made of mass timber, an engineered wood building material that is a more sustainable alternative to concrete and steel.
The building was subjected to more than 100 seismic events during the $3.7 million experiment and will undergo more before the testing period ends in August.

The building is designed to withstand earthquakes by having rocking walls, interior walls and staircases, and sensors throughout the building.

Two metal protection towers flank the building and cables tether it to the ground to break its fall if it collapses during testing.

The building's design and performance will help determine if high-rise mass timber buildings can be built in earthquake-prone areas like California.

Researchers at the Colorado School of Mines have conducted earthquake simulations on a high-rise building made of wood and steel in order to test its resilience.

The building was subjected to two simulated earthquakes, the first being a 7.8 magnitude quake similar to the Northridge earthquake in California, and the second being the 7.7 magnitude Chi Chi quake that hit Taiwan in 1999.

The building withstood both simulations and the researchers deemed it safe to enter after a half hour.

The principal investigator, Shiling Pei, noted that the building's ability to withstand the intense shaking demonstrates the potential for reducing the economic and social impacts of earthquakes by avoiding expensive structural repairs and quickly putting buildings back into service.

The researchers are testing four different building facade assemblies, and one of the aluminum panels popped out during the seismic tests, but all facades remained attached to the building.

The TallWood building's ability to withstand back-to-back simulated earthquakes speaks to the natural flexibility of wood construction and the architectural systems designed to strengthen the structure.

The article is about a building in Portland, Oregon called TallWood, which is the tallest modern timber building in the US.

The building's nonstructural parts were designed by a team led by Keri Ryan, an engineering professor at the University of Nevada, Reno.

Ryan believes that mass timber is a sustainable and cost-effective solution.