A long message attributed to Bill Gates, the Microsoft billionaire, encouraging people to reflect positively on their lives during the coronavirus outbreak has been shared thousands of times in multiple countries. It made it on to verified accounts, national newspaper websites and the Instagram account of Naomi Campbell, the supermodel. But we know that Bill Gates had nothing to do with it.
Jeff Bezos did not say this

The "beautiful message" about coronavirus that Bill Gates didn't actually write is not the only one. Here's another fake quote attributed to a billionaire. This time a statement that Jeff Bezos didn't make about Bill Gates.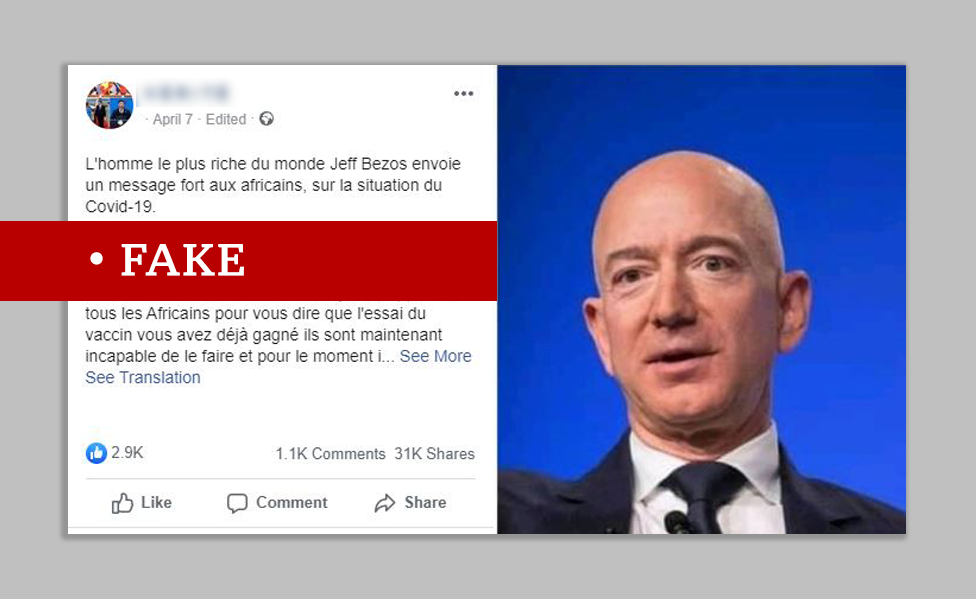 Amazon confirmed the quote is fake.

Identical posts falsely claimed that the Amazon founder Mr Bezos had sent a strong message to Africans about Covid-19 and that Bill Gates was looking to destabilise Africa. Africans were to avoid wearing certain face masks because they contained toxic substances, it adds.

The same bogus post in French has been copied and pasted by hundreds of accounts. The original one appears to be from an account in DR Congo set up in January and has been shared more than 30,000 times.